Do you remember what your 2020 was supposed to look like? Charley Crockett does. He was supposed to be singing country songs with his hero.
James "Slim" Hand was a rugged everyman who grew up in the heart of the Lonestar State making ends meet by day and holding court by night in the dance halls where he sang laments of life in the dust. To call Hand, who passed away last June from heart failure at the age of 67, a fringe artist might be considered both a compliment and curse. His cut of country music was free of compromise, occasionally treacherous, and resistant to exploitation. Despite his tenure in the honky tonks, an acrobatic tremolo, and an uncanny songwriting ability, Hand wouldn't record his first album until he was 45 years old, 1997's Shadows Where The Magic Was.  In between, he wrote songs, trained horses, drove trucks, bounced in bars, and did a little time. His legend aged in a barrel of wonder and whisper and the man from Tokio, Texas sometimes considered (if he dared to think of it all) that maybe the music business was for the birds. But for love or mercy, he endured.
When Charley Crockett heard James Hand sing for the first time in Memphis, Beale Street became the road to Damascus. In the mid-2010s, Crockett had taken his Gulf Coast Boogie from the street corners to the clubs and was making a name for himself as a charismatic troubadour with a penchant for craft and old school style. Charley was already a student of the greats possessing an encyclopedic jukebox mind full of decades and decades of bonafide country music gold and obscure hillbilly silver. In Slim, he found a master. The dance hall circuit that Hand had called home for the majority of his life became Charley's temple. Eventually, the two Texans became friends. Charley grew determined to see the music of James Hand reach the audience it deserved and in 2020, it was decided that James would join Charley on the road for one more ride around the sun. Of course, it didn't happen.
10 For Slim: Charley Crockett Sings James Hand fulfills a promise. The songs of James Hand are timeless, and in the care of Crockett rise above nostalgia. For those just discovering Slim, it's a Texas-sized rabbit hole. But for those who remember every tear, it's a celebration and declaration of The Greatest Honky Tonker in the World.
AI- James Hand. He was the guy for you. The guy that got a Lil' GL off the street and into the dance halls and the honky tonks.
CC- That's right. He was the guy that I could look at and say, "You know what? He makes me proud to be doin' country music today!" 'Cause there's a lot of folks from the past that make you proud of country music, but it's not always the case these days, unfortunately. I always was playin' a combination of blues and soul, folk, country music, old time, gospel, just kinda everything, a gumbo of styles on the street. James made me real proud to be called country. When they started callin' me country that was just kinda where it went. James was one of those guys… Not one of those guys, he was the only guy that I ever saw on a stage that made me feel like, "Well, this must be what George Jones was like. This must be what Hank Williams was like." I really mean that! Everything about him from his disposition to his songwritin' to his performance, you know? It's a thing I say all the time, like, I didn't get a chance to know Roger Miller or somebody like that, but I knew James Hand. And in that way, I touched hands with the greats.
Something you said recently in another interview was, "Sometimes, it's not the song, but who's delivering it to you that makes you realize what it is." Is that what you hope comes out of this album for people that are not as familiar with James Hand and his music?
Yeah, I hope so. I hope people recognize 'cause people say, "Man, you do those songs! Those are so amazing! The way you sing these songs!" I mean, it's me feeling it, but it's the songwritin'! His songwritin' is unbelievable! I just picked the 10 songs that spoke to me. I could pick a different 10, maybe make an even better record! But obviously, it's the way that I felt about him. I guess I could see pieces of myself in him– comin' from a street background, comin' from maybe people in Texas on "the scene" maybe takin' him for granted a lil' bit because they was used to him. Waylon Jennings, Johnny Paycheck, and all those guys, those guys all got burned out and washed up eventually. James was playin' in the honky tonks 'til, basically, the day that he died. We started playin' shows together before the pandemic, and when he played with us, man, it didn't matter if he was playin' first, he got a standing ovation! It didn't matter! People were blown away by his ability!
I'd have these good ol' boys at the dance halls comin' up to me and they'd say, "Hey, I heard you got James Hand playin' on some shows with you. You know, you really oughta be openin' up for him." And I say, "Yes, sir. I agree!" And then that same good ol' boy'll go back out on the dance floor, knock back a couple more Lone Stars, come back over to me a little bit later that night, he goes, "You know, you really takin' a chance, lettin' James open up for you… Nobody knows what he's gonna do!" Same guy! And I say, "Look, man, if he gets up there and forgets every word and acts a fool all night on the stage, it'll be an honor and a pleasure to watch him do it!"
Of course, he never did that. He really mystified folks. And he, of course, had his own audience that would come out to the shows. Because thing is, the only people that had anything bad to say about James Hand were people on "the scene". All the good Texas roots music lovin' audiences, they all loved James. I feel like that's how it was for Hank Williams. He's still not in the Grand Ole Opry and the reason, in fact, that they unloaded all of Hank's music so quickly after he died is because the labels and all the business people, those "scene" people, if you will, they said, "We gotta get this music out as fast as we can because he's gonna be forgotten in a year!" That's how the music business did Hank Williams– and we call Hank Williams the best to have ever done it!
The reason that I bring that up is I don't care what his reputation was among all these people on "the scene", because first of all, none of 'em could hold a candle to his ass on the stage. And that's just true. Second of all, I'm a late bloomer, but I started recordin' records before I turned 30. Nobody recorded James until he was in his late 40s. Now imagine if nobody discovered Johnny Paycheck 'til he's 45 years old! We wouldn't be talkin' 'bout Johnny Paycheck! We wouldn't even care about Johnny Paycheck! As much as I love Waylon Jennings, same thing! If nobody picked up on Waylon Jennings until he's 47 years old, it'd be a whole different deal! So I always say that the count might have been different.
But for me comin' from the street, lookin' at him in them dance halls and seein' him give everything he had and be all about the songs, that just meant everything to me! Like the last song we put on the record, "Slim's Lament", that was a song that he had not titled that he demoed out on his cell phone and sent me about a week before he passed. Me and Billy Horton, who recorded the record and produced it with me in Wyldwood, Texas, we decided to include it because we thought, "Well, it's a dark song but also it's very prophetic." I think it also shows you how good his songwriting was at the end of his life.
It is a very dark song. Probably the darkest song on the record. But at the same time, there's also a sort of catharsis about it as well in that you were able to take one of those final songs from James Hand and give it a release. Give it that life.
Yeah, I think it's important for his spirit that we were able to do that. His estate and his life and career is very complicated, but this wasn't about all of the complications of business. Somebody like him or even George Jones and all these people, you hear about their estates and the difficulty with 'em. This was about the man's legacy. This is about the man's soul and spirit. It's about the way that he haunted me after he passed away because I promised him I was going to do this. And I know he never really believed that I was going to do it! He used to say, "Well, Charley Crockett, you know, I sure wish you'd quit playing around! I wish you'd just do it!" And I said, "I am gonna do it!"
When he died… I don't know, man, I guess I just didn't wanna see some half-baked attempts at people recordin' his music. And then because of the complications of the pandemic and all that, even the local little tribute show they was gonna do at the Sagebrush in South Austin, not even that could happen! And that really, really hurt me, man. That was hard for me, Aaron. I saw the way that he was undervalued, and I saw the way that folks took him for granted.
Now, of course, a lot of people honored and loved James. But you know how it is, man. Like if you playin' in the local spots, some of these young guys, they play all the same spots every week for years, but James did it like that for decades, you know? I felt like, "Hey, this guy was born three exits down from Willie Nelson, started playin' just as young as Willie did!" If you ask me, I don't know if you ever thought about this– Hank Williams died in 1952. James Hand was born in 1952. And I think that's because they were both too good to be living at the same time (laughs)!
I want to go back to something you said about seeing yourself in James Hand because a lot of the songs that he wrote were about being his own worst enemy and then being alone with that knowledge. You spent a great deal of time alone in your early years playin' music. Is that something that connected with you?
Yeah. Everything he's writin' about spoke to me because of that road that I was on. You're not gonna find too many folks in 2021 that have a background of playin' on the street for 10 years. And there's a lot of reasons for that. It's not all, "Hey, look at me! I did the hard work y'all didn't do!" I did do that hard work, but circumstances in my life got me there. I don't think a lot of the things that James did, the music that he wrote and the way he lived his life, I don't think he just did that because he said, "I'm just gonna be a sad-eyed cowboy." No, I think those things have to do with the circumstances that happened to him in his life. I know that the family trouble, the crime world, the things that happen to you when you lose your innocence becomin' a man, those things shaped me and took me to the street. They made me an itinerant. You have to have surveyed a whole lot of land out there walkin' down the side of a highway before you can really own and sing that music. And I think I walked enough of that, that when he'd be in there playin' the dinner show up at Threadgill's, those songs that he was singing, they spoke to me. They meant something to me.
But I'm the same type of guy that learned everything that I know off of other street players. I learned how to sing Ernest Tubb off of people in jug bands on Royal Street, man! A young Cherokee girl that I used to hobo around with taught me a lot of spirituals that she knew on the fiddle, and she could sing like a bird and play 'em out there and make three times as much money as I did! No matter what I did, she made more money than me! She was a young, beautiful girl, who was good at what she did. Had a wolf-dog runnin' around with her. She taught me how to jump trains, man! I learned music that way.
James told me stories about truckin' and rodeoin' and throwin' dice behind these gas station casinos on the side of the highway in Louisiana, and all the trouble they'd get into and the way that he learned how to write songs. So I guess in that way, I'm not any kind of authority, but I know that I could see James. I could see him. You don't need to be shiny and have a big record deal and be the guy or the gal that everybody follows around on "the scene". You don't need it. I don't need it. I don't need you to be any of those things. I'm lookin' for the truth in the songwritin'– and he had that! And not only did he have that, the times that I've seen him on stage, whether he was at The White Horse or Ginny's Little Longhorn or the bigger events like Dale Watson's Ameripolitan Awards when they was in Austin when I first snuck into those awards in 2015, the year that he won [Honky Tonk Male of the Year].
Consequently, that year, Charley Pride came out on stage and sounded exactly like his records! And I didn't even know the man was still around at the time 'cause I was out of the loop! That was good for me because when Charley Pride walked out on that stage that night and sang, I thought, "God dang! Here's a man who sounds as good as he did on his records in the '60s, right now, at 80 years old!" I thought, "Man, that's something to aspire to!"
That's when I really started paying attention to Charley again. I mean, I was used to seein' Freddy Fender and Charley Pride records in the thrift stores around Texas when I was a kid because Lord knows nobody sold more records than those two fellows in their prime! You take it for granted when you grow up and you're from the same town as Freddy Fender and his records are everywhere, and Charley Pride's a Texas legend and his records just flood the market. You take these people for granted because you grew up too close to it.
At that same awards show, James actually took home the Honky Tonk Male award. That night at the Continental Club, he got up on stage and he sang "Lesson In Depression". He didn't have a guitar in his hand. I watched him sing that night, right underneath him, looking up at him on the stage under those lights and all the people drinkin'. He was cryin' and he was swayin' all over the stage, singin' his song, his story. And I thought, "Without question, this is the greatest honky tonker in the world!" I felt so grateful to be able to see that and understand that. And for my development, I looked at James and what he was doin', and I said, "I want to do that. But I'm younger, and I wanna take everything that I've learned and the opportunities that I've been given from my hard road, I'm gonna take all of that and I'm gonna apply it to my thing right now."
I was right in the middle of transitioning from those same stages he was playin' on into the national circuit with Jon Folk at Red 11 then goin' international. Havin' the privilege to be called country music and have pride in that through James, man, through Charley Pride, through these examples that in my early 30s, I was able to see existed, that I didn't see around me on "the scene". And I've always said this because as soon as you get caught up in "the scene", let me tell you, brother, it ain't about the music anymore.
But you have something completely different that those two guys did not have. You have and have always taken control of the path of your career in a way that many artists, they either never had the opportunity or they've just never had the courage to do it.
They didn't even have the opportunity! I never faulted them for that, man. I've done my homework on the business. You're right about that. And I appreciate you sayin' that. I want to say this, that the path that I'm on, if I was back in their day, everybody that did it and got a chance, you had to give everything up. They owned you and you had to deal with that. The truth is you had to figure out how to keep your integrity and play their game to be Charley Pride, to be Hank Williams, to be Loretta Lynn, to be Otis Redding, to be Ray Charles. Man, you had to dance with 'em and you had no choice! Willie Nelson? It took a special type of individual to get walked on like that, owned like that, and be able to keep a positive mindset and navigate that business.
George Jones was playin' on the street when he was 11 years old. It's not a coincidence that we call him one of the greats! What I'm sayin', Aaron, is back then, you had to do it that way. You had no choice. You look around and most people who got to some bit of success, if they didn't buy it with their money, the only other choice was the poor boy's route and the poor gal's route. And I recognize that. Back then, I would've been in line behind all those people.
Nowadays, to come up playing on the street? Somethin' happened to me. I remember in 2014, I got a little bit of money from hustlin' and I bought a smartphone. I started promotin' myself using those tools that are available to me that did not exist for any generation before us. The music business fragmented. Nashville came back in a way where a David Macias at Thirty Tigers could take a chance on a Charley Crockett and let him own his shit! Jon Folk built himself up after learning from the great promoters and built an independent circuit in the South similar to the Chitlin Circuit, similar to the old dance hall circuit that was the only way up back in the day– except I could own it on my own terms. They gave me that opportunity because I was able to market myself based on the things that are available in 21st Century America. You know, it ain't all bad! Dependin' on how you use it? It's not the tools, it's how you use 'em!
Or as Ani DiFranco said, "Every tool is a weapon if you hold it right."
That's right! And how you gonna use that weapon? You're right, that is a tremendous difference because when James and I started gettin' close, he's in his mid-60s. He'd been through it, man! He'd been through it! But I remember a guy that used to play bass with me in the blues clubs in Deep Ellum. He used to tell me, he'd say, "Charley Crockett, don't you think Robert Johnson would use that iPhone to promote himself if he had the chance to do it?" I said, "You damn right he would!" And he said, "Well, get on it, son!" And I did!
The thing is, it wasn't just that I got a smartphone. It was that I was a street guy who learned how to make money, who learned how to play songs and make it work and front a street band, whether it was in the French Quarter or runnin' up and down the subway cars. I learned all those skills before social media. That's that whole thing you're sayin', "Well, how are you usin' the weapon? How are you usin' the tool?" There's a million people who can look beautiful online and take a bunch of pictures, get some money from whoever they know, and flood the box with their dreams of bein' a star. Now I don't fault anybody for wantin' to have an audience, but there's a difference between just wanting to have an audience and having built somethin' to know how to do it. That's kinda what makes me maybe unique in my way, you know? 'Cause I'm not the first, I'm not the best, I'm different. I'm different in those ways for my times.
I think when I see James and I listen to some of those songs I included on there, the reason I chose to put them on there is because you can listen to stuff that sounds like Lefty Frizzell or Hank Williams in 1950, like in terms of the songwritin' and the singing, and then on "Lesson In Depression" and "Midnight Run", I included those, number one, I love those songs, but also I wanted people to see that James had touched on the very thing that you see commercial country music tryin' to package and sell. Even if it's half-heartedly with the Gary Stewart sound, the young George Strait sound. With "Lesson In Depression" and "Midnight Run", you see a lot of that return to commercial country, if you will, that is more traditional in a way that made George Strait famous. They're all tryin' to get back to that stuff, but James knew how to do that because James lived his entire life through that. James lived and was around early enough playin' as a teenager that he played in the heyday of Texas country music that Willie Nelson was able to tap into and was part of that culture.
He also lived in an era where he understood and could see how to write and sing country music in a way that would connect with young people. Even if they didn't know why exactly. Which is why all the guys that was playin' in the bars in Austin that was worth their salt, they all knew that he was the best. They all knew that Slim was really the best. They knew it! And any of the ones who had any reverence for the true stuff had a couple o' James Hand songs in their repertoire. Now, when we play this music, when it gets played on the radio– and thank the Creator that we're able to play these shows and do this, and hopefully do this safely– but just the handful of shows I've been able to play since recording that record, the effect that it has in the room when we play "Midnight Run" or "Lesson In Depression", it's that thing that I knew when I saw James do it.
That should've been the case for him. That he would have that success. That he could enjoy a new audience that wants to hear that kind of music. Because I don't think commercial country radio is necessarily playin' what the folks really want to hear. It's not that they don't want to hear it, it's that when they hear that sound, they want more of it! And that's not just a problem in country music! You know how I feel about this across the scale! And I know how y'all feel in Macon about that stuff, which is why y'all play everything that y'all wanna play and do what y'all do! And I got to tell y'all, I hear nonstop about Georgia puttin' me on. Everybody's sayin', "Man, how's everybody know you in Georgia?" I say, "It's The Creek, man! It's Macon, Georgia!" (Laughs)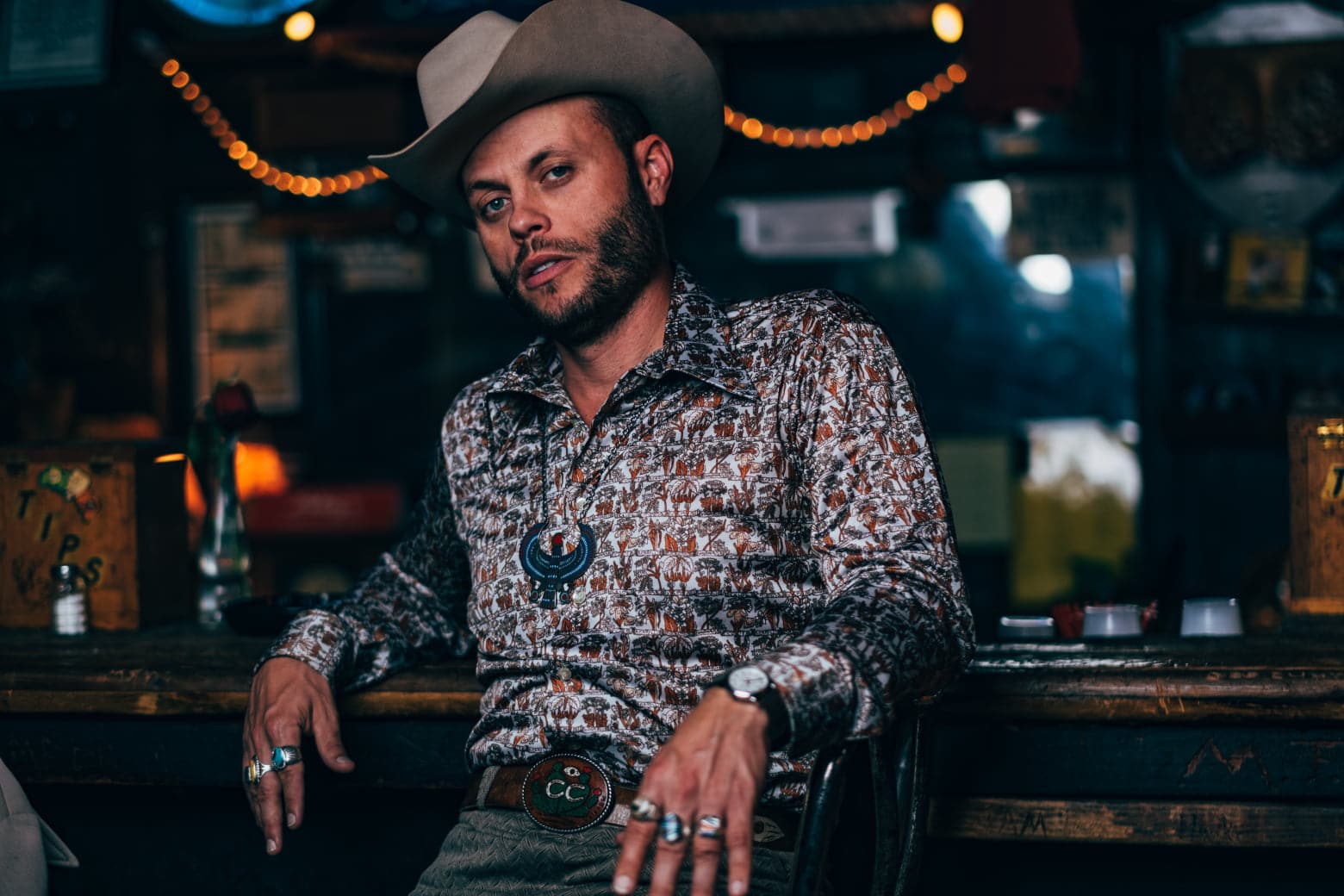 Last time we talked, there was a bit of a discussion about this generation of Texas songwriters. This last year has been… Well, it's been decimating is what it's been. I mean, we're talkin' about James Hand, but also Billy Joe Shaver, who was a great hero of mine, Jerry Jeff Walker… I don't know if you're familiar with Lasers Lasers Birmingham, Alex Owen, out of Los Angeles?
Yes, sir!
He said losin' Jerry Jeff Walker felt like losin' a member of the family.
Yeah, I know a lot of people felt like that.
It's also losing a link to that previous generation and the things that they learned and the things that they knew how to do. Now, here you are, it's 2021, you've picked up these songs, you're runnin' with 'em. I want to know how you feel about the perpetuation of the Texas songwriting legacy in 2021 and your part in it.
Well, based on the folks that I know, I can honestly tell you that I think it's in good hands. Maybe even more so because of the hard times that we've been goin' through. It's one of those things that it ain't pretty, but there's some beautiful ideas that come out of that. I know for me, it forced me to be with a lot of thoughts and ideas and look at myself in the mirror in a way that maybe you don't have to when you never stop. I think that, especially with all of these really legendary voices passin' away all so close together, whether it's John Prine and Charley Pride, Jerry Jeff Walker, or Billy Joe Shaver, James Hand, Bill Withers, I'm not saying that's a blessin'– it's not a blessin' at all– but maybe the fact that you see 'em all goin' so quickly will instill a burning fire in the young folks to recognize that you got to step in there and fill those shoes.
That's how it works! Like the way that I learned how to play music with songs in the streets– some of 'em have been gettin' passed down through the centuries! And look at my own situation with James Hand! I'm learnin' from James. He carried all that stuff his entire life– and he gave that to us! All the records that he cut, he's left that for all of us. That is a blueprint. That is a map. It's not just a map on how to write a song. It's also a map about how to live life, you know? That's how it carries forward.
I feel good about it, honestly, just from the folks that I know and the songs that they're writin', and from a lot of these young people reachin' out to me on the daily, thankin' us for keepin' this kind of music, havin' that rebellion, and puttin' tradition up front. Don't get me wrong, man– the old folks are happy to see it. They are honored and happy as hell to see this music. But what I want you to know is that I'm gettin' all these teenage kids tellin' me how much they love this music, discoverin' it, wantin' to know more about it. That to me is how you know that it's gonna be okay– when you see young folks passionate about this stuff.
It's a natural reaction because history don't repeat itself, it rhymes, right? That's what Mark Twain said. Look at the movement in folk, country, and rock n' roll that you seen in the sixties. If you listen to somebody like Janis Joplin and some of the interviews she gave, she said that young folks are rejecting the watered-down commercial stuff and looking for the real things that made them feel something underneath it. She recognized she was ridin' on that wave. Now I mention her specifically because that was a country blues singin' queen born on the Gulf Coast, baby! Right there in Port Arthur! You know what I'm sayin'?
The Queen of the Gulf Coast Boogie (laughs)!
One of 'em! Her and Barbara Lynn and all them mixin' it together! But that's why I ain't worried about it! The more watered down and disconnected these folks get in LA and Nashville and all these kinds of places, the more they're guaranteein' that there's going to be a rebellion in the music culture that is gonna swing all that stuff back to the front. I hope in some way that I'm part of that in my own fierce independence. Because I just enjoy that stuff.
Like when you were sayin' sometimes it's not the song, sometimes it's the person that's singin'. A man from the Last Poets, Abiodun [Oyewole], he told me years ago in his apartment in Harlem, he said, "Sometimes it's not even about the words. It's about the way the person singin' it makes you feel with the sound." And I just relate this back to James singin' on stage in Memphis, Tennessee on Beale Street. I love Tom T. Hall, man, love Tom T. Hall. I think all of us can agree he's one of the great songwriters to come out of Kentucky and out of country music– but it was the way James sang "That's How I Got to Memphis" that moved me to learn the song. That's all it takes, you know? With Willie Nelson, for example, if you hear a song that Willie Nelson sings and you think he wrote it, you look it up and find out he didn't. And then when you hear one that you're sure he didn't write, those are the ones he wrote!
I don't want to pry too much into the next album because I certainly want to have that conversation when that time comes.
Who told ya?
Who told me? You told me (laughs)!
I prolly did (laughs)!
I was hopin' that you could tease a detail or two about it. Like I said, I don't expect you to go in-depth about it because it is still somethin' so very new. But were you back with Mark Neill for this or were you someplace else with someone else? Any special guests you can mention? Are you gonna continue that same dark country style that you dug into with Welcome to Hard Times?
Well, yeah, man! Everything you said is basically the answer! It was recorded with Mark Neill in Valdosta in the great state of Georgia, I'm happy to say!
So you were just back in Georgia not too long ago then?
Yeah, I was there for a whole month, if you can believe it! Yeah, I'm expandin' on that dark country sound. And then I would say we brought a little bit more of the blues and soul that I'm known for. Maybe that would be the difference. I think we went even deeper on the country stuff, but we also brought a little bit more of the rhythm & blues back on this one as well.
On this James Hand album, 10 For Slim, that version of "So Did I"… That is deep, dark, mine shaft country music. We talked about "Slim's Lament" bein' a dark song– and lyrically, it is– but as far as stylistically, I think you really touch somethin' with your version of "So Did I". That made me wonder if you were gonna keep doin' that with this next project.
I appreciate that! Yeah, we have several of those. I like you call it mine shaft country! People always have called me a stylistic chameleon, but I'm getting better at bringin' all my styles with me. When they were askin' me, "Charley, what do you want to push for the singles on this new record?" 'Cause we gonna put it out at the end of the summer. That's the plan. That's the idea. I said, "How 'bout we release one country, one soul, and one blues." Jon Folk, my agent, last time I was in Nashville sittin' in a bar with him, he said, "Man, nobody does country music like you, but it's really that Texas and Louisiana rhythm & blues aspect that when you mix that in there, it really makes you your own voice in the American Canon."
I really thought about that. That gothic country sound– that deep sorrowful country music that George Jones and James Hand, that those guys really were the kings of– that speaks to me. It really speaks to me. As I'm developin' that, I'm really tryin' to make sure that I continue to make sure that the rest of that Gulf Coast sound comes with it. I think folks will be happy. We expanded on the Welcome to Hard Times record and then we brought a little bit of stuff back to the table that maybe some folks was worried they weren't gonna see.
I know that James shared more than just "Slims Lament" with you, other demos that he was workin' on. Will you do another James Hand album?
Oh, there's no question! We're gonna take our time. I've been spendin' time with the family. They have been very supportive of me doin' this, which is amazing because of the grief that they've been goin' through and the difficulties of navigatin' a complicated life like James's when he goes on to the next world. Their strength and understanding and support for my journey and relationship to James has been inspiring. To see hardworkin', humble folks payin' the bills havin' that kind of respect and trust in me with his music, I've learned a lot from the way that they carry themselves. There's a lot for me to learn from them. I'm gonna take some time to see how everything they're dealin' with plays out. And then I want to really be able to look deeper because yeah, he did send me other stuff and there's a lot more to James Hand than meets the eye. I'll spend the rest of my life turnin' over rocks with James Hand's name on 'em, man. I'll tell you that right now!
You did mention earlier that he was haunting you, and I read in other interviews where that was really keepin' you up. Now that you have made the album, how you sleepin'?
A lot better, man. I kind of owe it to Taylor Grace, really, my lady, because we was in California when he passed. I found out through a post. I think The White Horse might've posted the fastest about it. I woke up in the mornin' to the news and it just… I just was overcome with tears. And I knew right then that I needed to do this, to do it because I had intended to do it while he was alive! He was gonna come out on the road for all of 2020 with us. He hesitated at first and then he had decided privately that he was gonna go ahead and do it. He felt like he had one more run in him. Another midnight run, if you will! And I knew all that, man!
His best friend called me up and told me a lot of James's personal feelin's about the business and the struggles that he'd gone through bein' with Rounder [Records] then goin' to the smaller labels and then fallin' back off the labels, back into dance hall obscurity. That's all I could think about, man! But I've had some success in the last couple of years where you get a lot of voices around you tellin' you to do all this different stuff. So somethin' like a James Hand project? A mentor, really somebody that I owe a lot to my identity? There's not a lot of people in the business who aren't gonna understand why you need to pay tribute to a man like that.
The voices were gettin' distracting and people were tryin' to put it off and delay it and convince me to put it on the back burner and focus on this thing and all that. The lights burn holes through the stages in the music business! My girl saw the depression of the confusion, and it was slippin' away from me. We were sittin' in the house one day and she said, "Baby, if you don't get that James Hand record recorded, it's gonna kill you. It's gonna tear you up. You need to just go and do that. You are depressed and you haven't been happy since you've been gettin' convinced to put this on hold." And she was right! I just cut all the noise out, and I called up Bruce. And Bruce said the same thing, which is why I love Bruce Robison, my manager, because he's an artist too. He has heroes within Texas music that mean as much to him as James Hand means to me. There's a lot of people in this business that are supposed to be the head honcho and they can do this, that, and the third, but Bruce really understands where I'm comin' from. And he said, "Man, you just gotta do it!"
I don't think I knew that Bruce was your actual manager now.
Yes, sir!
Is that something recent?
Nah, it's been a couple of years. We did it quietly. We weren't tellin' people.
I knew you had been involved with the Next Waltz and workin' out there at The Bunker and involved with a lot of artists that go out there too. So I knew there was a relationship.
Well, man, hard to trust folks in high-stakes gambling businesses, believe it or not! Bruce was playin' the same festival circuit that I was playin' on and wanted me to come by The Bunker and do some of the music compilation stuff that he's been doin'.
Yeah, that "I Can Help" has gone over like gangbusters here, man! Everybody loves that track!
Oh man, that's the best! You know, that's the most popular thing we've ever done! And I'm here to tell ya, I think we recorded it one or two takes and never thought about it again! Really! We would do that old Billy Swan tune from time to time. We'd pull it out the trick bag, and we just got a good hold of it! Bruce, I always call him a river dog, man. He's that guy you don't see comin' in the card game when you turn 'em over. You think you got him beat and he's just wadin' down in the river waitin' to getcha! Anyway, I trusted him, man. I was dealin' with a lot of shenanigans and I called him up one day and asked if we could meet up. I went over to see him and sprung on him that I wanted him to be my manager! He was surprised, to say the least, but he took on the responsibility and we've built this thing up real strong together ever since.
But it was really Taylor, who was seein' me gettin' pulled in a million different directions, who said, "You're really gonna regret it if you don't do this now." And she was right, man, because I don't handle grief well. I tend to push it all down. Same thing with all my heart problems and all that. I avoided. I blinded myself to all of the clear signs that I was dyin'. I just chose not to see 'em. And I was kind of startin' to do that with James a lil' bit. When I got my mind back together, she convinced me to put that back on the table.
As soon as we went in there and cut those songs, man, and we were in there and the band was in the live room? Keep in mind, everybody on that session had played with James and knew him longer than I did for better or for worse. And everybody was very, very, very enthusiastic about participatin' in that project. I'm telling you, man, he was in the room when we were trackin' those songs and I was singin' 'em. To have that… It's not every day that a hero of yours passes away and you have the responsibility or you're just in this position to be the first person to ever really record a whole record of his songs. That don't happen! That'll never happen to me with somebody like Hank Williams or Ray Charles. But with Slim, we just ended up on that same honky tonk circuit, and we was able to see each other, man.
I tell you this real quick, last thing I'll tell you– he loved George Jones too. Sharin' George Jones songs with him, that's when he really started sharin' with me his newest ideas. George opened it up and it was just somethin' else, man! The greatest gifts of my life? I always find 'em in the places that nobody else wants to look. It's always out behind some shed on a honky tonk circuit that most of these guys think they're too good to be playin'. And those are the shadows where the magic is.
10 For Slim: Charley Crockett Sings James Hand is available now on all your favorite digital platforms. Pre-order the vinyl now directly from the artist.