It's hard not to smile when you hear The Flatlanders. For one, Butch Hancock, Joe Ely, and Jimmie Dale Gilmore so seldom release recorded music together, that it's an event akin to the rarest of astronomical and celestial events. Consider also that when the trio does appear in the context of a song, performance, or apparition in the West Texas night, they're clearly having the time of their lives! Treasure of Love is no exception. Recorded in phases and completed during the COVID-19 pandemic, Ely, Gilmore, and Hancock mine their earliest influences to create an album as raucous as a roadhouse on Saturday night and welcome as friends around the kitchen table. Treasure of Love features iconic cuts written by George Jones, Johnny Cash, Bob Dylan, Townes Van Zandt (of course), Leon Russell, and others, but it's fresh loot in the form of original tunes recorded for the very first time that more than deliver on the alt-country prophecy The Flatlanders etched in the panhandle dirt 50 years ago.
AI- About a month or so ago when I should have been workin', I went down a YouTube rabbit hole and I came across an interview with Richard Pryor and Gene Wilder. Wilder said when they weren't filming, they didn't interact or visit because they didn't wanna risk losing the magic they have when they are together. The Flatlanders– are you always within each other's orbits? Or like Wilder and Pryor, do you just know when it's time to get together?
JE- We just kinda have this built-in antenna or somethin' that tells us when it's time. It always is something different, some different thing that happens. This time, we had discovered some tapes that the Flatlanders had made a few years ago and realized that they were some of our favorite songs that we had never recorded. It was the start of roundin' everybody up and workin' on these tapes– and it was just a new start! 'Cause we hadn't done anything in a few years. We had never considered ourselves a full-time band like Reckless Kelly or somethin'. We just come together every few years for a special event.
Like a comet comin' back around!
(Laughs) Yeah, exactly!
So these songs, as you say, some of your favorites that you'd never recorded as a group– these tapes were just some things that you guys had been messin' around with at some point and then decided…
It's things that we played together back when we first got started with the Flatlanders when we were just kind of a kitchen band (laughs)! We had a bunch of friends that all lived in a big house together over by Texas Tech in Lubbock. Oh, we had a mandolin player that was from one kind of section of music, and then we had, of all things, a saw player [Steve Wesson] that was a friend of ours who was a carpenter! He would come by the house every day after work, and we'd always be playin' in the living room. He'd bring out his saw and start hittin' it with a mallet (laughs)! So all of a sudden, it became an instrument– and damnedest sound I'd ever heard! It sounded like a flyin' saucer landin' in a cotton field!
I didn't hear it– did you guys manage to include a saw on Treasure of Love?
No, not that I can remember (laughs)! These songs were more like songs from the '50s and '60s.
In my mind, I always had this vision of the three of you just sittin' around and pickin' through those songs, and then you land on one and everybody's like, "Yeah, that's it! That's the one we gotta include!"
Yeah, that's kind of the way it happened! We pretty much just rolled the dice!
You do have some new original tunes. I say new. I read that some of them had been around for a little while, but just had never made it onto an album. Tell me about the pedigree of "Satin Shoes". How long have you been holdin' onto that one?
"Satin Shoes" is probably the newest one on the collection. Although the melody of it goes all the way back to a takeoff of an old Dallas song called "Deep Ellum Blues". But the lyrics all of a sudden came out differently and the whole timing of it. As we were workin', we started goin' backwards in time and found that song and thought, "You know, that sounds like it should be included in this collection." So it took the three of us to get together and play songs that felt like they were Flatlanders songs. That one definitely did!
You say that. Tell me, Joe, what makes a Flatlanders song for you?
Well, I think it's always got a good melody. It's got lyrics that are kinda double-sided that can be taken one way or the other, especially on songs [that are] humorous, like "Satin Shoes". Butch has one called "Mama Does The Kangaroo" (laughs)! That one fit right in! The love songs can kinda be turned on their side and seen from a different angle. I think it's just the way that we approach the song and the way that we build it. We already know what that the instruments are. Even though the Flatlanders never had a whole lot of steel guitar, our dear friend Lloyd Maines, who helped produce this record– people know him as Natalie Maines, daddy– he's also one of the top steel players in Texas or anywhere in the world time.
Of all time!
Yeah, of all time! That's another way that it built itself was in the way that the instruments were divided and stacked and who played what.
"Moanin' of the Midnight Train", man, I love that one! You open the record with it– and where has that been hidin' all this time? That one feels like old school Flatlanders, like that should have been around…
Well, it is! It is old school because we took it out, listened to it, and then put it back in. It just kind of evolved into this record. It's been around for a while. I think Butch has played it on stage when he does solo shows. I started learnin' it here a few months ago. Yeah, it's one of those things! It sounds like some of those old Georgia songs from the '60s, like those soul songs, travelin' songs. Kinda has that soul thing like "(Sittin' On) The Dock of the Bay" or somethin'.
Among many of the songs that you do– you got some Johnny Cash in there, Bob Dylan, Mickey Newbury, which is fantastic– you do "Sittin' On Top of the World". One of the most influential classic songs in all of music– blues country, rock n' roll, anything!
Oh, yeah!
Do you remember the first time you heard that song? And who was performing it when you did?
No, not exactly. It's been recorded so much. I think it was one of those guys like Blind Lemon Jefferson or one of the old folk-blues guys maybe. I really don't know it. Like you say, it's been recorded so many times.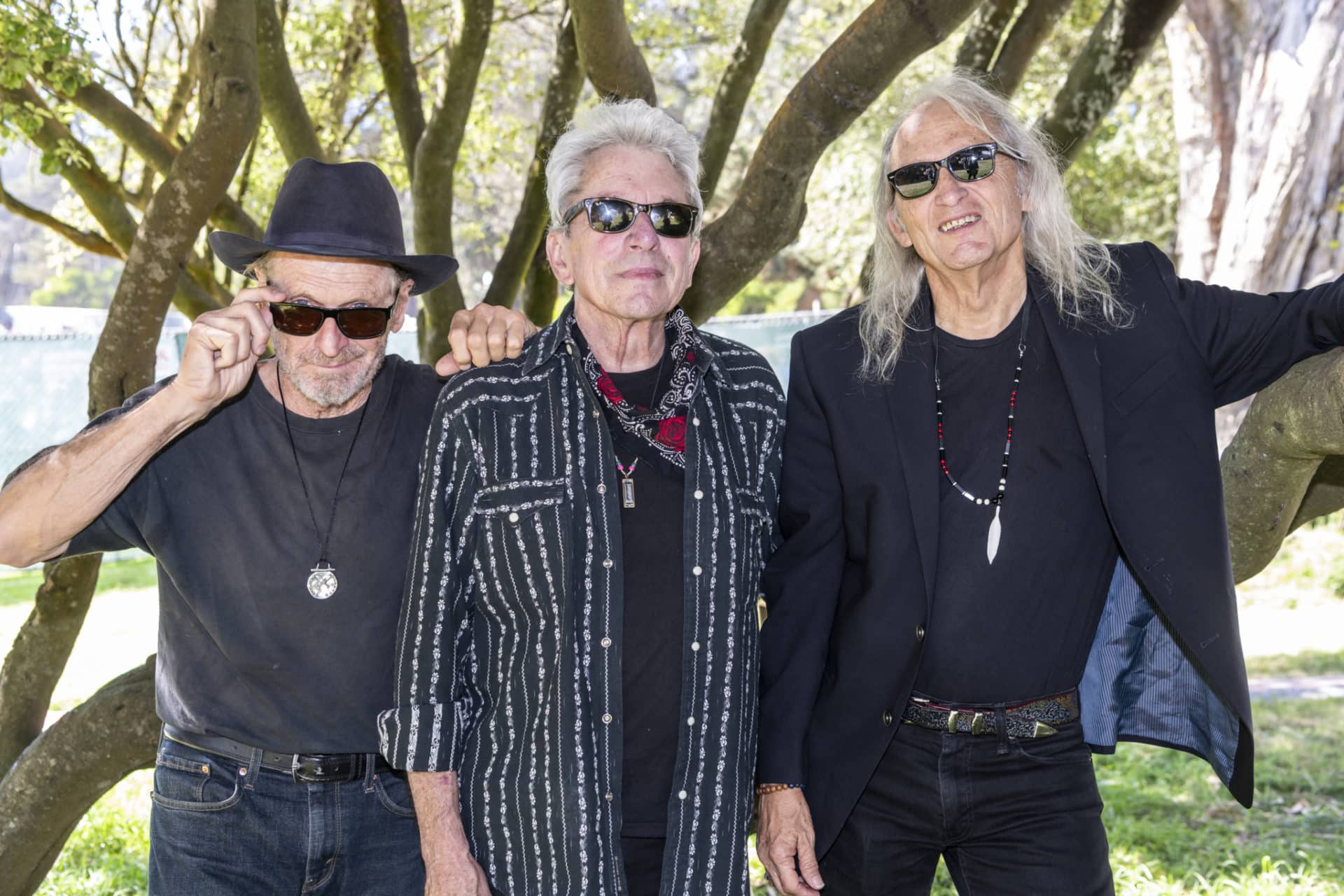 Treasure of Love is not the only project that you had during the pandemic. I wanted to ask you about Love In The Midst Of Mayhem too. You went into that having to basically record parts and have it all done remotely, is that right?
Everything had to be done remotely. That was when everything came to a grinding halt. I looked around and it felt like this vacuum had sucked the music out of everything! I'd thought that we were all in the same boat, you know? I went back and looked through songs that I had written and songs that I was thinkin' about workin' on and it just gradually built as the pandemic got deeper and deeper. It was an album to maybe help people with some songs of love and tenderness instead of songs of desolation like a lot of people were going through. So it was tryin' to help ease over the emptiness.
Was that somethin' that you needed too? 'Cause the songs on the album, there's this ongoing serenity that counterbalances all of the sadness.
Oh absolutely! It was part selfishly done because I was havin' a hard time copin' with so many of my friends out of work and so many musicians on the DOL. Everybody really didn't know who to turn to or what music to turn to or anything. I think that the pandemic is going to change the face of music forever because it's moved musicians back into places where they grew up and tryin' to find their family again after all the things that happened after everybody lost a part of their selves
I gotta tell you, Joe, your voice sounds as good as it ever has– if not better– on Love In The Midst Of Mayhem and on the new Flatlanders record. How have you kept in shape musically?
A lot of hard living (laughs)! Nah, I've just played my whole life. Started playing violin when I was eight years old and played in grade school, and around about high school, I discovered the electric guitar and put a rock n' roll band together in Lubbock. I always kept that thing goin', which meant a lot of singin'– and it's a workout playin' a set! I like to have a good, long, tight set. Keepin' on the move for me is what I think kept me goin'. Although I'm havin' to do kinda double tasks with this last year. I had to double and do a lot of rehearsal for myself and everything.
Do you find yourself rediscovering things when you do that?
I rediscover things and I even find that I change things, change lyrics, 'cause the song has become slightly different. Somethin' that happened in the pandemic– or as I call it the pan-damn-it. Something has happened during that time, and I have to work double hard to keep that same spirit and have the words tell a story. It might not be the same story. I might've had to change the lyrics because of things that have happened. But it's all kept me on my toes and it looks like there might be a little window out now. I'm hopin' for everybody that they see a new dawn.
I don't know if it's flung open yet, but that window's definitely cracked. What is the status of a potential Flatlanders tour or you getting back out and doin' some shows?
We have talked about that! We saw Butch and Jimmy the other day, and we have talked about that. We're all leavin' a space for it and seein' how everything pans out. I know everybody is itchin' for the road and to bring some songs to the people. There's a whole new bunch of songs that we'll have either as the Flatlanders set or as my set.
Are you concerned about getting back out because of lingering pandemic issues? And then also because everybody and their brother and their sister and their cousin and their uncle is also trying to book shows, tours, rooms, and get back out there?
Oh, I know! I just saw Reckless Kelly's upcoming list and it's like a half a year-long tour!
They'll be here in September!
And I was thinkin', "Boy, those guys! I'm a go-getter when it comes to hittin' the road, but they've kinda gone haywire!" I'm glad for 'em because they're one of my favorite bands. I'm glad to see 'em gettin' everybody together, but I'm gonna wait a little bit before I do.
Was anybody documenting the recording, the moments of making Treasure Of Love? Seems to me like that would've been something– to have a video camera handy for someone to chronicle putting all that together.
You know, I don't think that any of it was video recorded because it was really a work tape. Started out that way. But then as we worked on it more, we didn't think of it as a video. We thought of it as a music tape. But I could be wrong 'cause I keep findin' things that are connected to both of those collections! So something might turn up! I have a studio full of tapes that I'm about to go through.
Oh really?
Yeah, there's stuff that I found that I consider part of this collection and it was not in the original group of songs. So there's no tellin' what I might find (laughs)! But that's been my life!
Did you just start diggin' into that 'cause you had the time to do it?
'Cause I had the time to do it, and I talked with Lloyd and he had time. All the songs had that '50s honky tonk steel guitar or blues dobro or something. They all had that kind of eerie feelin' as well as the lyrics. It was findin' everybody's time to put in and to finish the whole set.
What kind of timeframe are those tapes?
Well, I guess they were started in, oh 2015. Somethin' like that? Maybe 2018? Somewhere around in there. It was over two or three different periods of time stretched out. But Lloyd worked on 'em in about six months ago.
Would it be fair to call Lloyd the unofficial 'official' Flatlander?
He considers himself that (laughs) 'cause we both grew up in the dusty, old flat lands 'round West Texas. In fact, there was one time that me and Lloyd lived not more than three or four miles away from each other when the whole Maines family was growin' up with Natalie and Lloyd and all the brothers. It's a big family! Actually, that whole collection of tapes goes back another five years. In the discovery of it and the first initial mixes, it goes back about five years. But then we discovered other parts of it, and it kept changin' as we went along.
So without asking you to commit to the future, it's entirely possible that it won't be another 12, 13 years before the Flatlanders ride again?
(Laughs) I certainly hope not! Everybody just had different projects they were workin' on and everything, and I think now, this new record gives us inspiration to keep rollin'!
Treasure of Love, the new album from The Flatlanders will be available on CD & Vinyl and through all your favorite digital platforms on July 9th!