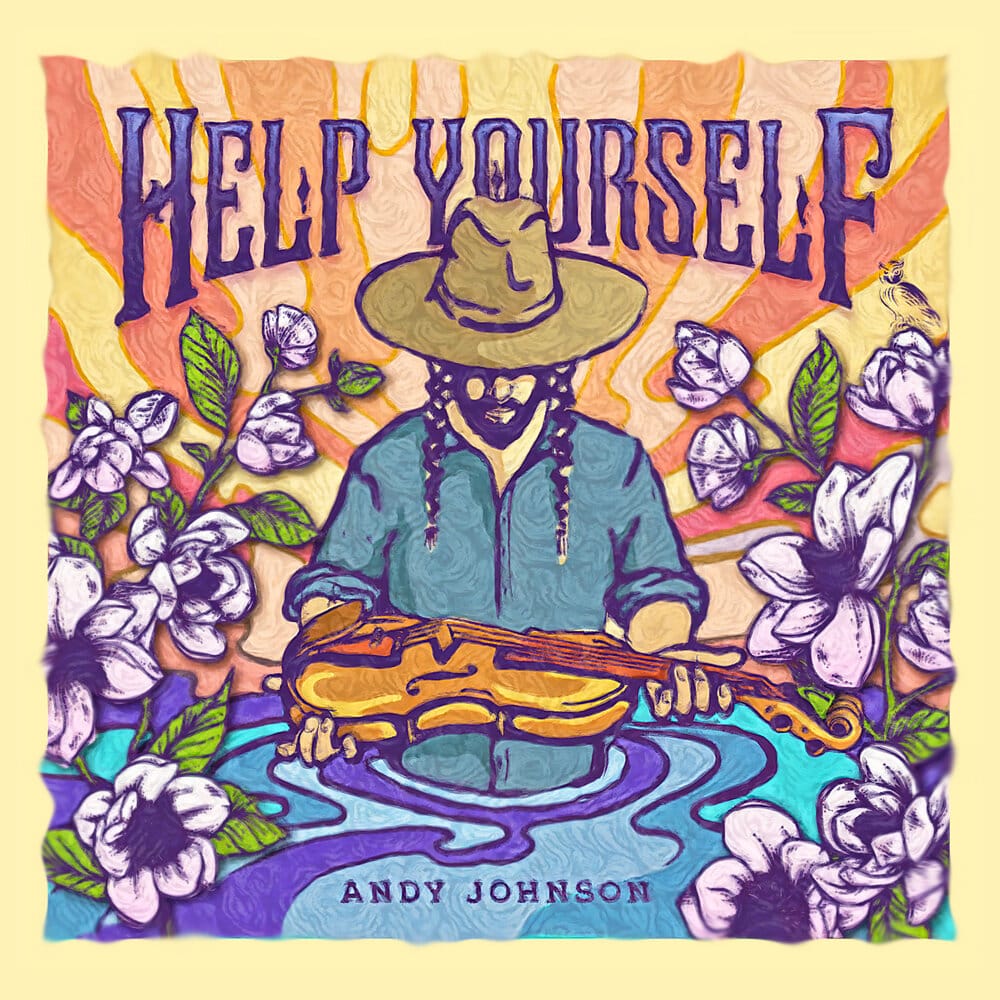 Andy Johnson raises his chin and plants his heels in the soil with Help Yourself, a 10-song mosaic of Americana, bluegrass fiddle tunes, and Southern Rock that sets the stage for the Thomaston, GA songwriter's next act both personally and professionally. Recorded at Daniel NeSmith's (Back City Woods) Sky South Studio in Cochran, GA, the songs on Help Yourself celebrate a dedication to craft and nature while reconciling Andy's transition to solo artist after the dissolution of his group Royal Johnson and the passing of friend and bandmate Chance Royal in 2019. A hopeful lightness juxtaposes against an emotional weight as a dizzying stable of Central Georgia pickers n' grinners drive Johnson's already considerable compositions with the heartbeat of a Saturday night back porch jubilee.
AI- There's a great quote from you that I thought made all the sense in the world. You said, "It's easy to get so caught up in promoting a snapshot of who you are that you forget to allow yourself room to grow." And I know exactly what you're talkin' about when you say that.
AJ- Exactly! As independent artists, at times you have to put on several different hats, and it's easy to get stuck with one of those hats on. Sometimes you get too worried about what you look like and what you're tryin' to sell instead of actually who you are. Unfortunately, being independent, you have to think about those kind of things sometimes. But not all the time (laughs)!
With this last year and the pandemic, something that I've watched a lot of independent artists experience is dealing with that in a time where it's a problem for everybody– being able to get their names out, they're images out when you can't get in front of people and do it. Social media has played a large role in that as well as digital and streaming music. In your musical career, in various incarnations, you've experienced a lot of that, particularly with your live performances and the way that you've traveled. How have you been dealing with it this last year, before we get into the actual new music, as an independent artist in a pandemic?
Well, it's been challengin'. Like you said, or you alluded to, it kinda leveled the playing field. A lot of the big artists, they still can't play any shows. But guys like me that don't have too much pride to play a restaurant or a little juke joint, in Georgia anyway, I've probably worked more in the last year than I did the year before that! So in some ways, I've done better this year! But it's also been a challenge to try to find ways… Like with the livestreamin' thing, I could do that from my house all the time. But how do you keep it new and interestin'? My concern has been how do you get that quality product to the people? Even though the livestreams are cool, most folks are listenin' on their phone with crappy speakers, and I'm playin' into a crappy phone microphone! You're losin' a lot of the quality there also. But at the same time, I think you're earning cool points with your fans just for lettin' 'em into your life a little bit.
Help Yourself, we're callin' this your first official solo album, and I wanna unpack that notion of solo. With Royal Johnson, with Dos Blues Guys, I imagine that there was and is a fair amount of give and take creatively. How was putting this project together different?
I had all of these songs pretty much put together in my head before I started recordin' 'em. And it's definitely not all my creative input because I went to Daniel [NeSmith] with the bare songs. We have a lot of the same musical tastes and ideas, so he was able to kind of hear what I was goin' for, but he also changed the songs in his own way– and definitely made 'em better!
You started recordin' the album, I think, very early 2020. Did you and Daniel get started before the pandemic?
Yeah, we got started right at the first of the year. I might've even went on New Year's Day.
You said you had all the songs in your head, so you were still workin' 'em out, fleshin' 'em out once you got the process started?
All the lyrics were there and pretty much all of the composition, but the production and how I presented the songs, definitely, Daniel had a big influence on that. But the bare bone songs were all ready when I went in. I definitely thought it would have been out a long time ago (laughs)!
I would imagine that you had a great deal of anxiety when things started shuttin' down and avenues were bein' closed off as far as releasing an album and preparing to promote it on the road.
No kiddin'! When things first happened, I wasn't even sure I was gonna be able to ride to his house any more! They were talkin' about lockin' the roads down and stuff. You know, everybody was kinda freakin' out at first and I was like, "My God, I'm not even gonna be able to go to his house to work on the album!" It also presented challenges of gettin' people there. Somebody may have been exposed and didn't want to come to the studio when they were already scheduled to be there. He also lives two hours away from me. So all of that combined created challenges that made it take so long.
Goin' into the studio with these new songs, as you say, coming at it from a different perspective with Daniel involved, did it feel like starting over to a degree? I mean, you've been at this for a few years. You've played in bands, you've had a style that I would say you've allowed to define what you do– and not that this is a departure from it necessarily, although it does certainly have a different sound– but did it feel like you were entering in uncharted territory and starting over again as an artist?
Absolutely! This is definitely a fresh start. I wanted it to be that just to be able to break away from Royal Johnson– not that that was a bad thing, but I wanted it to be something new. Mainly because of the way the band ended. There wasn't a lot of clarity to the public, I guess. So I definitely want this to be a fresh start in more ways than just the sound.
Is that something you feel like you're having to overcome? Because of the way that Royal Johnson, the way that band ended? If I'm not mistaken, I believe we just passed the past the two-year anniversary of Chance [Royal's] passing. So that has to be fresh on your mind.
We did. But, honestly, it's probably more in my head than it was the actions of other people. Not very many people were openly rude to me or made me feel any type of way, but subconsciously, I knew that I needed to break new ground, I guess. I didn't have that in mind per se when I was writing the songs, but I just knew in general that I needed to start over.
I feel like that does creep into the songs at least from what little I know of the circumstances. But having spent some time with the album, it does feel like that becomes a part of the narrative of the album. I was gonna ask specifically about the title track, "Help Yourself".
Yeah, in a way it's about a realization and takin' positive steps to make things happen to better yourself and your situation. It's one thing to know what you need to do, but it's another to actually start doin' it.
Tell me who plays on the album. I would guess that Daniel, wonderful musician that he is, plays a large role on there. Who else is joining you?
Yeah, he's all over it! Daniel plays mandolin and banjo, even plays electric bass on a few songs. His cousin, Jess Darsey, he play the songs that have the real hot-shit banjo on 'em– "Pony Boy", "Ready or Not", and "Wrong Before". He's a real banjo player. Daniel's a guitar player that plays banjo too, but Jess is a real banjo player!
I tried to pick the banjo up one time and I couldn't figure it out! It was beyond me!
We got Rusty Bridgers on electric [bass] and upright. Sterling Waite, he's a friend of Daniel's, he plays all the fiddle. He plays everything! Daniel said he can learn an instrument in a week! We got James Lengel on washboard and brushes and tambourine. We got Norris Hilliard on accordion, Kenneth Robinson– Boo Boo– on washboard, Kenny Walters from the Alien Sharecroppers, Tim Brooks's band, on electric bass on "Pony Boy". We got Jesse Herrin, the bassist from the Pine Box Dwellers on "Giant Steps" and "Grudge" and Joe Palmer is playin' the organ on "Giant Steps".
Who'd you say was playin' the fiddle?
Sterling Waite.
'Cause I noticed on the album cover, you are sort of cradling the fiddle there. So I'd wondered if perhaps you had picked it up and were wielding it?
Yeah, I've been learning fiddle for about a little over a year now, and I'm lovin' it! But I'm definitely not playing on the album (laughs)!
Well then, I'll look forward to hearin' you do that at some point in time. But since I brought that up, the album does look fantastic! Who did the design for that?
Rob Chandler. I think his art name is R.S. Chandler. He's a guy here in Thomaston where I live. He actually invited me to join my first band when we were in high school. He doesn't play music anymore, but he does graphic design. I gave him the songs and he came up with that all himself.
I want to ask you this question and I hope it doesn't come off the wrong way. You've got this album, 9 original songs– and then you do a cover of the Allman Brothers' "Pony Boy". Why did you include that?
I don't know! I was just diggin' the song at the time that we were puttin' the concept of the album together, and it sounded like it would fit our sound. I love the song, I love Dickey [Betts], and I thought it ended up bein' one of the better sounding songs So that's why we have been sending it out first to a lot of radio stations.
You mentioned that in an email– that you were planning on doing that. And I immediately was like, "Oh no, don't do that! You need to lead with your stuff!" I'm not blowin' smoke at you, I think you've got some real strong work on the album that's comin' from Andy Johnson.
Well, thank you! We went back and forth on tryin' to decide that, but I don't know, really, what made the final decision. You know, Royal Johnson was a big part of the GABBA and the Allman Brothers kind of crowd, and I don't know if I figured that would be somethin' to get them behind me or what. I talked about doin' a few other covers too, and I may end up recording those. But "Pony Boy", I thought it fit.
Help Yourself ends with "Grudge". Not the track I would have expected to close things out. It's kinda got an Empire Strikes Back ending to it, to be honest with you.
I'm not sure I've thought about it so much as a theme as I did just the sound. The tracklist, I started out with like five different versions. I listened to 'em and would whittle it down. Sonically, and as far as listening to an album as a journey, I just felt like it fit best right there. I'm not sure if it was the proper ending, but I think it fit best given the context of the other songs.
Physical copies of Help Yourself will be available on 4/2 and through all your favorite digital platforms on 4/22. Order directly from the artist now! Like & Follow Andy Johnson for news and LIVE performance updates!