Miko Marks grew up singing gospel in church, chuckling at Hee Haw, and harmonizing with Johnny Paycheck on the radio. It's an origin story that could have led any aspiring, denim-clad, cowboy-hatted artist to Music City with the aim of striking country music gold, and in Marks's case, it wasn't such a stretch. Raised in blue-collar Flint, Michigan, Miko had always embraced a natural twang and when she and her husband David moved to California after graduating from Grambling University, it wasn't long before her destiny shifted. David recognized his wife's true passion and encouraged Miko to follow her country music dream.
Moving to Nashville, Miko released her debut full-length, Freeway Bound, in 2005 followed by It Feels Good in 2007. Both albums featured hallmarks of neo-traditionalism as well as just enough of the then-current pop flavor so as to not skew too far left of the dial. The reception was encouraging. Perhaps making an even greater impact was the fact Miko, a woman of color, was out-country-ing her standard-issue contemporaries– but what made her unique and appealing also made executives nervous. Despite her growing fan base, critical acclaim, and singularity of being a Black woman singing country music, Miko was unceremoniously informed that potential major labels didn't know what to do with such an act, she should seek her fortunes elsewhere, and dejected, she left the music business, seemingly for good. Of course, one's true calling may join the background of everyday life's cacophony, but it never really ceases. Miko returned to the West Coast and the Bay Area, raised a family, and even indulged her love of country music from time to time. In 2019, she released the single "Roll Out", a track inspired by her love of roller skating, not necessarily a one-off but far from a career relaunch, and then unexpectedly, she received a call from Justin Phipps, an old bandmate turned Redtone Records owner, who had a song for Miko.
"Goodnight America" was an anti-anthem for the 21st Century, a resigned blues that addressed racism, inequality, immigration, and the threat of toxic nationalism that far from uniting was widening long-established and hastily painted over cracks. It was also a watershed moment for a rejuvenated Marks and in 2020, amidst the COVID-19 pandemic, Miko and her aptly named band, The Resurrectors, captured the pain and hope of an era with Our Country. Flavored with gospel, soul, blues, and of course, Miko's beloved country music, Our Country is evocative of Willie Nelson's escape to Austin, more a reflection of the artist than any particular genre. Miko and The Ressurectors capitalized on the momentum mere months later with Race Records, an EP featuring stellar interpretations of the Johnny Bush penned "Whiskey River", the Carter Family's "Foggy Mountain Top", CCR's "Long As I Can See The Light", and more. This past March, the group released the single "Feel Like Going Home", another gospel-tinged number that could easily be construed toward spiritual, national, or global peace– but I think it's more personal. For Miko Marks, home was always only a song's length away.
AI- It's one thing to perform, another to make a record, and then it's a whole other thing to decide to put yourself back out there for the industry and the critics. Was that something that you wrestled with in releasing Our Country?
MM- I did wrestle with that. But the timing of the way that music came back into my life via some old friends that I had made music with before, Justin Phipps and Steve Wyreman, the way we had gone years from not performing or playing together, and then to come together to create Our Country— it was like magic almost! It was like something that was beyond me and what I was maybe thinking in my small mind. It was more like I followed it rather than me trying to do something, where I was flung back into the music industry not really thinkin' about how I would be received. It's like, "Oh, this feels right. The timing feels good, the music feels good; I'm right where I'm supposed to be." I kinda was led to doin' this again because I didn't think I was puttin' out another album. I thought I was done (laughs)! Sometimes we don't know what's really out there for us until we're here, and now we're here with Our Country and Race Records bein' out– and let alone two projects, I've got another!
Well, I'm gonna ask you about that in a minute, but since you brought up Race Records, let's talk about that one. The collection of songs you chose for the EP… "Long Journey Home", I'm not sure which version you came by– I'm thinkin' Stanley Brothers? And of course, "Whiskey River", and then especially, you do another version of Stephen Foster's "Hard Times", which you also included on Our Country. Where'd you come across that song? I don't get tired of it. There's so many different versions of it, I think I just get frustrated that it continues to be relevant. How did you come across it?
This is a collaborative thing I'm involved in right now with Redtone Records, and I have some old souls that I work with at the label. They constantly turn me on to music maybe I haven't heard before. Justin brought that song up, and I loved it! But then he told me the history and I was like, "Oh, we have to this song! We have to repurpose this song, give it life through the voice of a person of color." I really felt strongly about it, and then I came across so many different versions out there. [Mavis Staples'] version really just spoke to my spirit, my childhood, and how I grew up, and the gospel feel of the song resonated with me.
Gospel still plays a very big part in your music. That's how you got started, right?
Absolutely! I can't do anything without a hint of gospel in it because I've been singin' since I was three in church and in the choir and traveling to different church conventions. My family was really, really about havin' a spiritual life, and also, musically, everybody was pretty much involved– from aunties to cousins to grandparents. It's just how our family did things. We communicated through the church and through music.
That gospel really comes out on the latest single, "Feel Like Going Home", which came out back in March. Was that something created separately from Our Country? Or is that part of what you were talkin' about earlier, the newer project? 
"Feel Like Going Home" was created while we were creating Our Country and it's gonna be on the next album that doesn't have a title yet. We just continued after Our Country, simultaneously writing other songs, figuring we were gonna release another project. We just kept writing, and I feel like that's how "Feel Like Going Home" came about.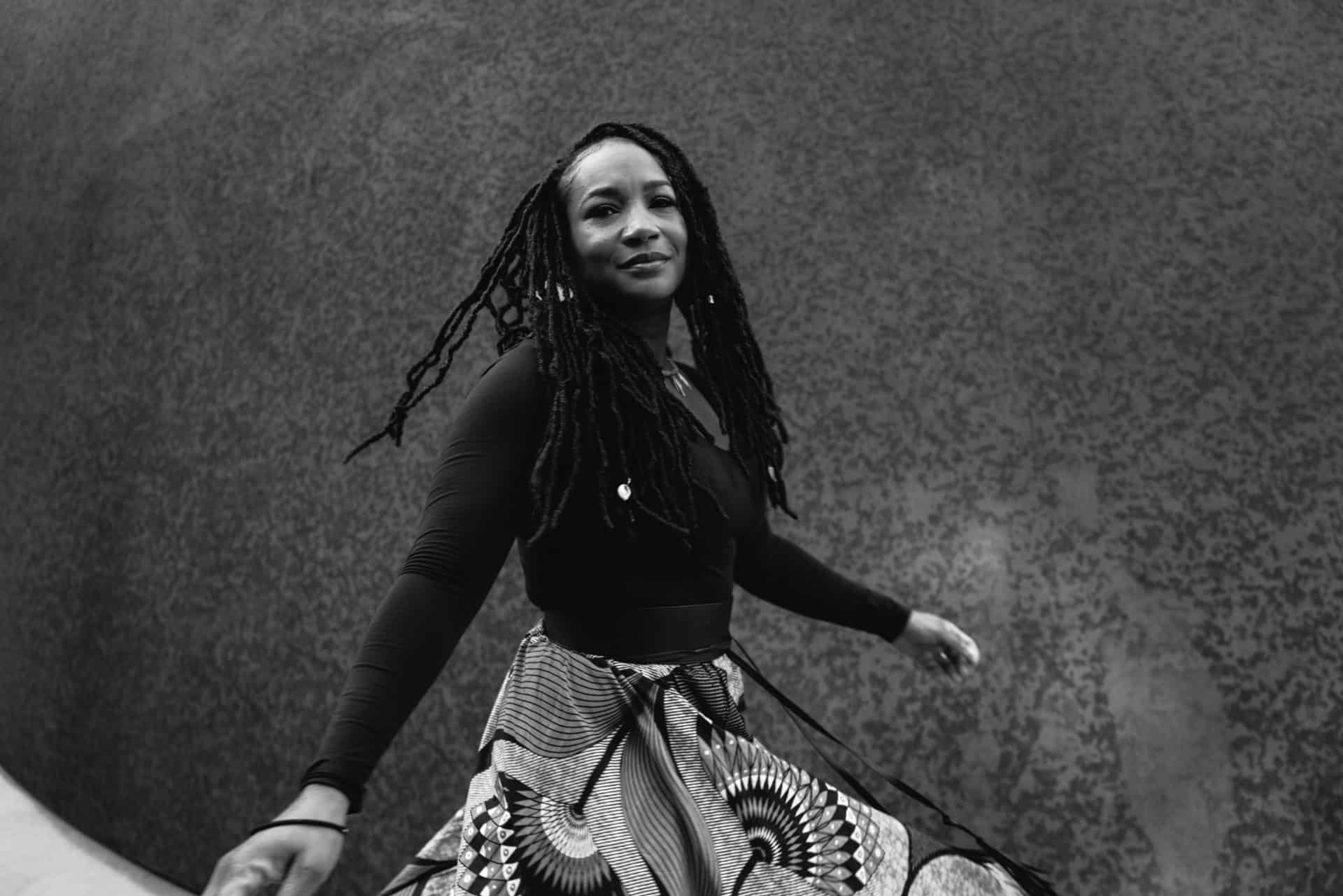 Do you feel like you're makin' up for lost time? For the years that you were out of the music business?
(Laughs) Absolutely! I'm makin' up for so much lost time! But it wasn't lost time. Let me just change that…
Yeah, that's a bad way for me to put it.
No, I just wanna flip it. There's so much inside of me that's built up over the years that I'm finally gettin' the chance to get out and share, so I feel like I'm right on time for where I'm supposed to be. And maybe that break was needed so could be at this point giving this honest truth to people who are actually listening. COVID really helped in that regard– we slowed down, we shut down, we looked inward, and people had a chance to really listen and hear without so many distractions. That was the blessing of the time that went by. I'm getting to really take a more seasoned approach to how I put my music out and what I wanna say in the world. So I think it wasn't lost time, it was just the right time.
Speakin' of the right time… You will be returning to CMA Fest next week– and that's gonna be for the first time since you left Nashville, correct?
Oh, my God, yes!
Do you feel like a prodigal or a returning, conquering hero? Or do you not have any expectations for what goes down? 
I try not to have any expectations just not to be let down. I'm just walking in faith and happy about the return and coming back and performing at the Spotlight Stage after all these years. Of course, it's surreal for me, and it's a moment that's not lost. I'm gonna really enjoy it and pour my heart and soul into that performance. 'Cause it means a lot to me to be able to return at the CMA Fest. It's been a long time, and I think it's high time that go ahead and do that!
That's an excellent point– the enjoyment. Do you feel like you're able to enjoy this part of it more than you did back then?
For sure! I'm older, I'm wiser, and I know how to slow down, not get ahead of myself, and be present in the moment, whereas I think back then, I was lookin' at, "What's next? What's gonna happen from this?" Constantly moving past the actual moment. I think I'm just gonna be present and enjoy and make my memory about it.
Our Country and Race Records are available now through all your favorite digital platforms! Like & Follow Miko Marks for album news and LIVE performance updates!
Thee Aaron Irons is a music commentator & radio personality for

100.9 The Creek

where he hosts Americana Madness weekdays from 10am-3pm and Honky Tonk Hell, a Rockabilly/Rhythm & Blues retrospective that airs every Tuesday evening at 7pm. He lives in Macon, Georgia with his wife and daughter.