In the summertime, everyone's a DJ, and I'm no exception. Here are five albums for shindigs real or imagined, or for when you need to step away, like when someone hits you with yet another, "Is it hot enough for ya?"
Guitar Romantic, The Exploding Hearts (2003)
Combining '50s naiveté and charm with The Who's windmill chords and Nick Lowe hooks, The Exploding Hearts' Guitar Romantic is the world's best record collection condensed to 33 minutes of teenage kicks and pixie sticks. Think '70s AM pop addicted to white crosses, only louder. But three-fourths of the band's lineup was killed in a bus crash in 2003, so does any of this matter? Sure it does because the album plays like the loudest epitaph, an inscription reminding you of when you're young and brave and feeling like you can never be stopped. Remember them this way.
Summer Days and Summer Nights, The Beach Boys (1965)
Between 1964 and 1965, The Beach Boys released All Summer Long, Today!, and Summer Days and Summer Nights, a trio of albums that– in hindsight– undercut Pet Sounds' reputation as an out-of-nowhere symphonic waylay. The road to Pet Sounds had been predestined, Brian Wilson's leap from Chuck Berry rewrites to "teenage symphonies from God" unprecedented. He had been a genius all along. Each album from this pre-Pet Sounds triumvirate deserves a spot on any summer essentials list, but it's the latter that sounds most like Brian's final dry run for his masterpiece. There are still the geeked-out shout-outs to bikini-types– "The Girl from New York City" and (who knew?) "Salt Lake City" and the occasional cover– "Then I Kissed Her", a charming rewrite of The Crystals' "Then He Kissed Me"– but elsewhere the songs carry a heft of sophistication. "Help Me, Rhonda" and "You're So Good to Me" deceptively exceed the expectations of Top 40s pop, and "California Girls" is a revelation, anticipating 1966's mind-bending "Good Vibrations." Yet the album's highlights are those most under the radar: "Girl Don't Tell Me"— the Beach Boys' most criminally underrated side of perfect pop– and the drop-dead instrumental "Summer Means New Love" for when words fail.
Summerteeth, Wilco (1999)
The 1997 release of the massive Pet Sounds boxset reminded listeners of the album's ever-reaching influence, and it was impossible for a contemporary band to release an ambitious pop album without drawing comparisons to Brian Wilson's masterstrokes. (See: R.E.M.'s Up; The Flaming Lips' The Soft Bulletin, Radiohead's OK Computer). Wilco was no exception. With Summerteeth, their third record, Jeff Tweedy and company finally severed ties with the alt-country scene, a movement that took its name, No Depression, from the title of an album by Tweedy's former band, Uncle Tupelo. The Pet Sounds comparisons ring true. "A Shot in the Arm", "I'm Always in Love", "Nothing'severgonnastandinmyway (Again)", and "ELT" deliver the soaring hooks steeped in melancholy, while "We're Just Friends", "Pieholden Suite", and "When You Wake Up Feeling Old" are full of backing harmonies– those barbershop ooohs and aaahs– that recall the brothers Wilson. Besides the obvious pop confections, it's the album's sense of exploration for which Pet Sounds provides the most vital antecedent. The band used Exquisite corpse, a Surrealist cut-and-paste technique, to great effect when writing some lyrics, including the devastating "She's a Jar". Elsewhere, analog synths– courtesy of the late, unheralded Jay Bennett– gurgle underneath or envelop the vocals, giving the melodies a warmth and vulnerability they wouldn't otherwise possess. After Summerteeth, Wilco largely abandoned their pop consciousness, becoming something more serious, more experimental, and perhaps they're better for it: They're a band that's become its own supergroup. But here, they're unstable, broken, and somehow smiling about it.
Destroy All Astromen!, Man Or Astro-man? (1994)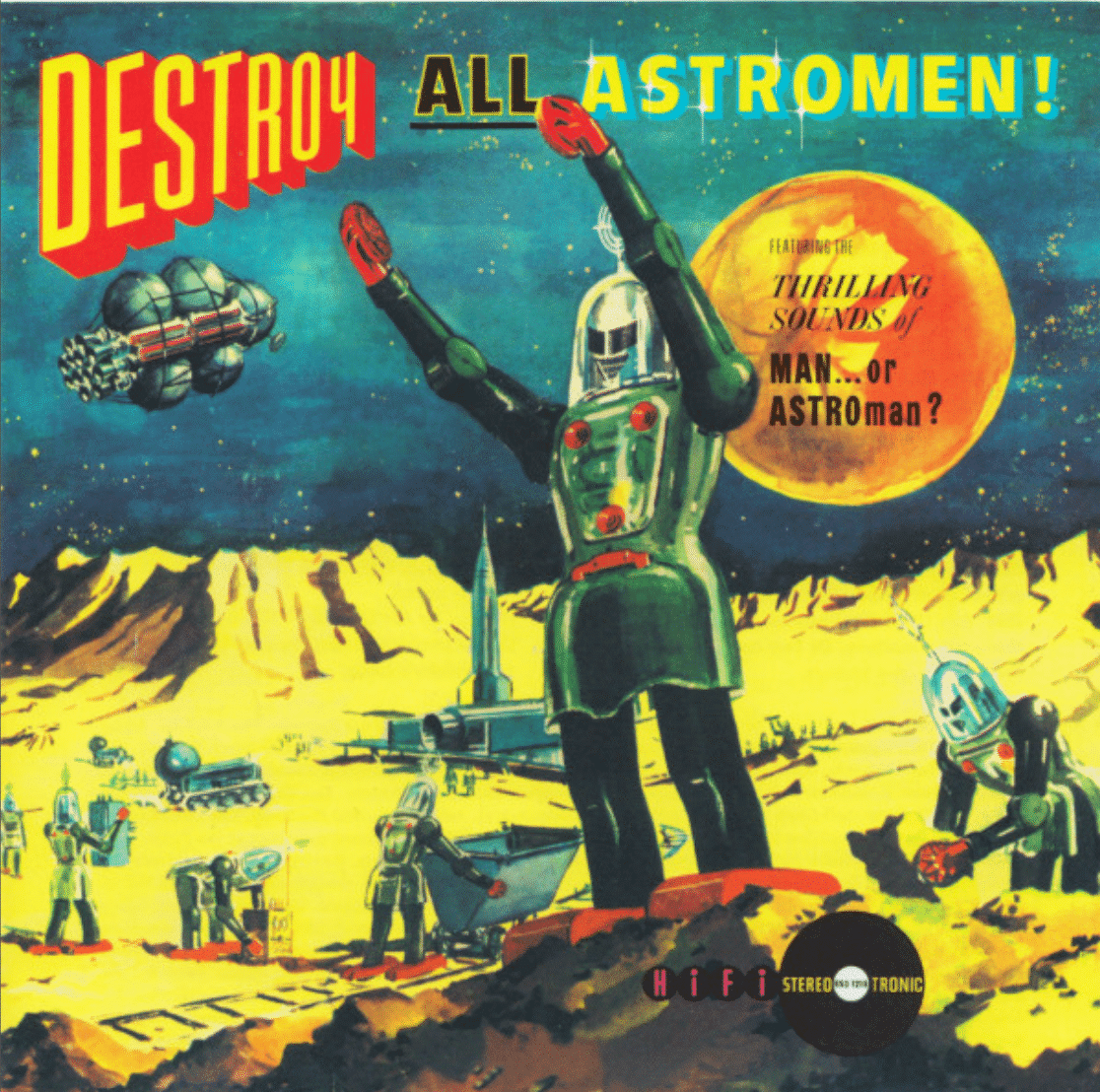 The surf band Man Or Astro-man? is unique in that the group is from outer space, having survived a 1992 crash landing that's left them stranded on Earth. Using found copies of 1960s surf music as a reference point, the visitors formed a band in Huntsville, Alabama, to fit in with the cool kids while their spacecraft undergoes the needed repairs. MoA has released 13 full-lengths and who-the-hells-know-how-many 7-inches, each a must-have for fans of reverb, tremolo-picking, whammy bar-abuse, and cult sci-fi and horror B-movie samples. Destroy All Astromen! is perhaps MoA's finest 45 minutes. While the covers are solid bait for the uninitiated– the Mystery Science Theater 3000 theme, The Rezillo's "Destination Venus", The Centurian's "Intoxica", The Avengers IV's "Time Bomb", and Dick Dale's "Taco Wagon", the originals prove why the band's legend spans galaxies. "Name of Numbers", "A Mouthful of Exhaust", and "Gargantua's Last Stand" burn, and "Bermuda Triangle Shorts" is the genre's best song written by an extraterrestrial– or otherwise.
Come On, Let's Go, Ritchie Valens (1998)
There are cheaper, less comprehensive collections available, but Valens's entire oeuvre, as abbreviated as it is, is worth your time and rock n' roll dollars. Frankly, anything less is an insult to the kid's memory. Yes, there are the smashes. "La Bamba" is beyond critical discussion at this point, and "Donna" realizes every teenage songwriter's dream come true: immortalizing your crush in a song that scales the Billboard charts. Besides the hits, this compilation's worth lies in the deep cuts, with why-nots like "High Tone" and the giddy "Hurry Up". But I will never get over the title track. "Come On, Let's Go" is the first punk rock song; everything after that follows through on Valens's imperative. In 1957, Little Richard received a holy warning shot while performing in Australia, a fireball of a prophecy that saved him from a Pacific Ocean plane crash. One wishes that the ill-fated crew of Beechcraft Bonanza N3794N would have been afforded a similar courtesy.
Stream 100.9 The Creek 24/7 at

 thecreekfm.com!
Charlie Farmer is a Georgia writer and professor who loves his wife, his daughters, his students, his cats, his books, his LPs, and everything else one should love in life.