Given their resumes, it's not an overstatement to call Stephen McCarthy's and Carla Olson's latest project a supergroup. They've been at the vanguard of American music since the late-1970s, playing pivotal roles in all things punk, New Wave, and Americana. McCarthy is perhaps most famous for his time in The Long Ryders, the pioneering alt-country group that helped establish the Paisley Underground scene as one of America's most influential musical movements. He's also spent time as a note-so-subtle secret weapon for The Jayhawks and a rejuvenated Dream Syndicate. For her part, Olson fronted the irresistible Textones and later found success as a solo artist, songwriter, and producer, working alongside legends like Mick Taylor and Percy Sledge. In 1987, she and former Byrd Gene Clark released So Rebellious a Lover, a landmark album that's considered by some critics as the first true Americana album.
McCarthy and Olson have crossed paths over the decades, but only began working together in earnest for a 2020 cover of Patty Loveless's "Timber, I'm Falling in Love" and last year's Americana Railroad project, an all-star double album that pays tribute to the railroad's impact on the American landscape. The duo recorded two songs for the record, a revamp of The Long Ryders' "Here Comes that Train Again" and a loving cover of the late Gene Clark's "I Remember The Railroad". Promotional interviews for the projects revealed not only the respect McCarthy and Olson have for each other but also the joy they had performing as a duo, so it's no surprise they chose to collaborate on their first full-length together, Night Comes Falling.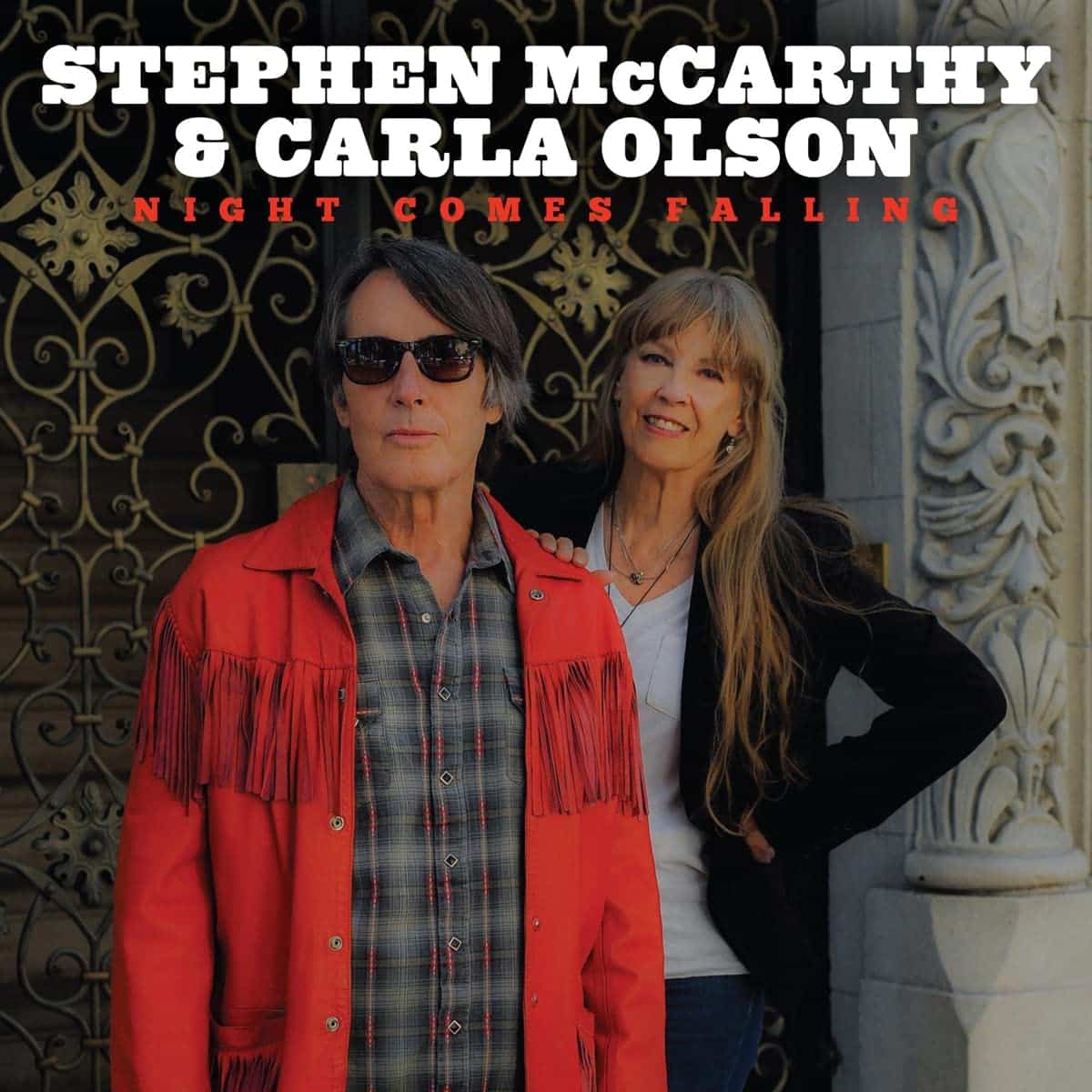 Fittingly, the resulting record is warm and gracious, its casualness evidence of the duo's mutual reverence and camaraderie. Along with coproducer Mikal Reid, McCarthy and Olson have crafted a record that blends the chime and twang of their discographies with the charming harmonies of artists who should've begun collaborating years ago. But TNCF makes up for lost time. It's the rare duet record where the pair inhabits the same world. They're not singing over each other, legend against legend, even if it's just for kicks. Instead, they're pledging devotion ("Timber"), conspiring a getaway ("We Gotta Split This Town"), confessing to a wandering heart (Chris Hillman's "One That Got Away"), succumbing to nostalgia, even if they know better ("Long Way Back to Seventeen"), or paying tribute to Clark in the title track. Threading throughout all of this is an us-against-the-world intensity that we normally attribute to the young and the reckless, the fated couples of The Shangri-La's songbook. But Night Comes Falling reminds us that even as we grow older, we can still savor the fire of chemistry.
Night Comes Falling is available on CD or streaming!
Charlie Farmer is a Georgia writer and professor who loves his wife, his daughters, his students, his cats, his books, his LPs, and everything else one should love in life.