Constructed in 1848, The Zion Episcopal Church has become a rallying point for the arts in Talbotton, Georgia, offering up community significance, acoustic perfection for musical performances, and since 2021, a festival that brings the blues from all over the Peach State. Precious Bryant, the late and legendary blues/gospel singer & guitarist hailed from Talbot County, and modern bluesmen Jontavious Willis, Jayy Hopp, and Neal Lucas have continued to keep the area fresh for new generations. The Zion Blues Festival will take place this year on Saturday, May 20th, and feature vendors, food trucks, and of course, live blues music. 
Katherine Johnson is the Chair of Zion Church Restoration Inc., the group sponsoring the festival and committed to the ongoing preservation of the church.
"We have recently gone through a huge restoration to the outside of it. The inside is in great shape and the acoustics are fantastic! People love to perform in there– and it will be open during Bluesfest," says Johnson.
"Several artists have been performing in there in the last couple years and recording– Jontavious is one, and Neal– and we all got the idea to do a Bluesfest outside, particularly Neal and [Bluesfest board member] Tom Persons. The thought and the whole thing behind this is to bring the arts to Talbotton– there are a lot of arts in the area– and to generate new interest in coming to Talbotton to reinvigorate the community. It's working that way, and we thought blues would because there's so much music in that area, historically and currently. That's our vision– to reignite the little town of Talbotton and bring people to it for its arts and music as well as history."
Neal Lucas, who recorded his 2019 EP New Day at Zion Church, will be among this year's performers along with Jayy Hopp, Lylie Mae, Unknown Blues Band, Cannonball Red, Dr. Dixon Bh. D, Lloyd Buchannon, and Vicki Lynn Maxwell.
Proceeds from Bluesfest '23 will be split between support for the Zion Church and another historical landmark, the Straus-LeVert Hall.
"Bluesfest is on the grounds of Zion and the Straus-LeVert Hall, and they are going through a renovation. At one time, it was a women's school in the 1850s, which was very unusual," says Johnson.
"We have also gotten involved with Columbus State University and the Schwob School of Music, and they have done some performances at Zion, and then we've gone over to the Straus-LeVert Hall for a wonderful reception. We're gonna use that in partnership with Zion if there are weddings and receptions or if there are more concerts. We are, on both ends, trying to pull in a lot more stuff into Talbotton. We'd like to have plays there. We would like to pull in people from the Springer Opera House to do some performances there. There are history lectures that can go on– we even want to bring in people from Mercer to come over and do some lecturing!"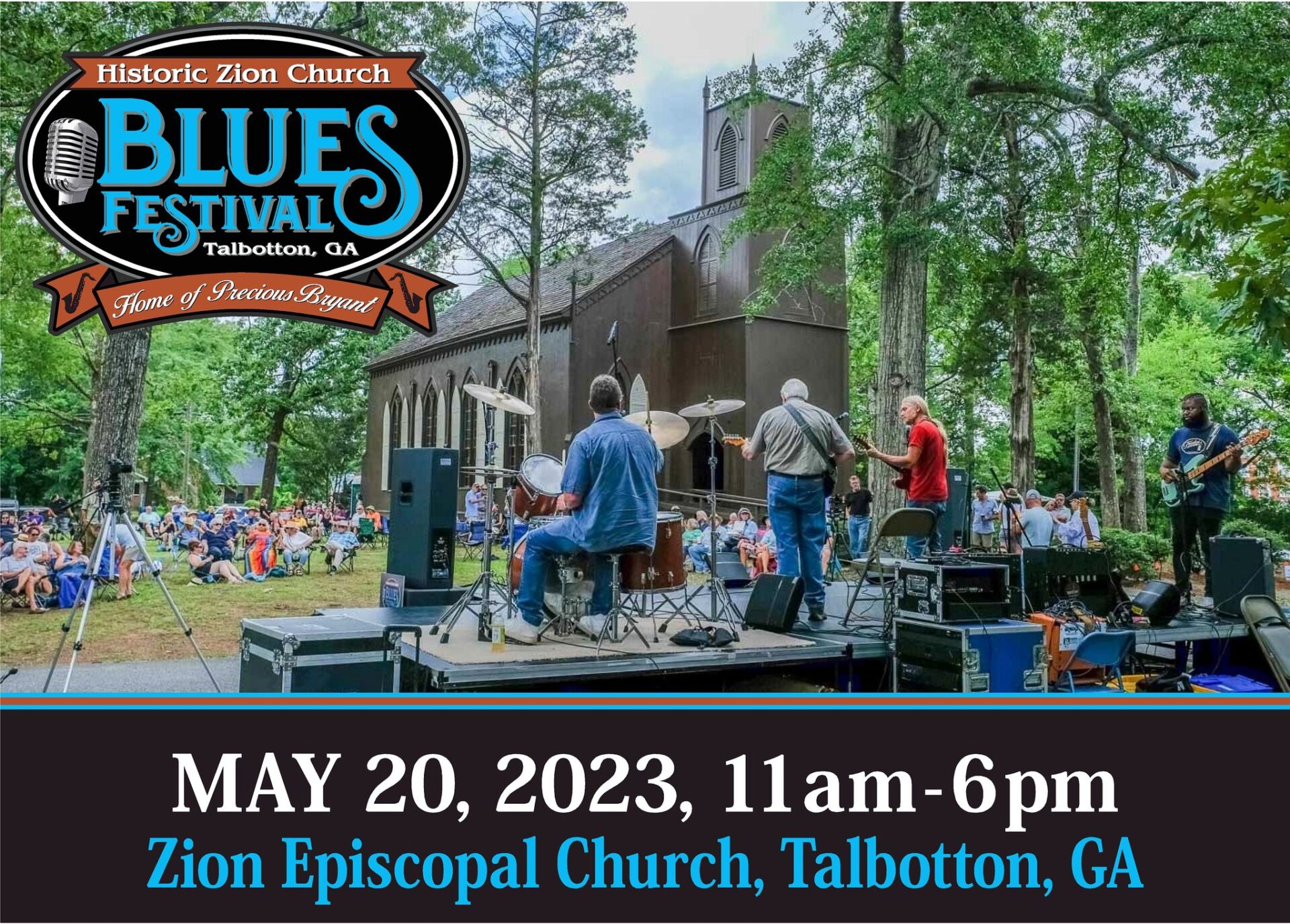 Zion Church, which hasn't had a congregation in decades, according to Johnson, was badly in need of care when the Episcopal Diocese of Atlanta deeded it to the Georgia Trust For Historic Preservation, who in turn, deeded it to Zion Church Restoration Inc. for upkeeping.
"The Georgia Trust holds a conservation easement on Zion Church, which is a really good thing 'cause it means that we'll always be taken care of. Really, since the fall of 2019, we've raised over $300,000 to restore the outside. The Historic Columbus Foundation, we were involved in a public participation grant, got the most votes, so they awarded us $100,000 and we've raised the rest of it through individual donations," says Johnson.
In addition to the festival and events being planned on the church grounds and at nearby Straus-LeVert Hall, Johnson says the preservation hopes to see more artists take advantage of  Zion's recording opportunities.
"It's a great place to record. Jontavious and a group recorded there– that was a lot o' fun! I know Neal Lucas in the past did a CD there, and we want to begin to rent it out for people who want to do CDs," says Johnson.
"The acoustics are fantastic– all the musicians love it! That's a really good thing! We want to promote that, get a lot more of that sort of thing going where we can rent it out for people to record."
Gates will open at 10:00am the day of the event and visitors can enjoy refreshments from B.J. Represse Pork Skins & More, Graffiti Food Truck, and Junction City BBQ. Vendors in attendance include Deborah's Jewelry Designs, Mama Blackbird's Natural Living Apothecary, Perry Fuller  Children's Books/Paintings, Allen Gee Pottery, Seasonal Chicks Creations, and Big Al's Rolling Hat Store.
Lawn chairs are encouraged and coolers are welcome.
Enjoy the Zion Church Bluesfest, 11am-6pm, Saturday, May 20th in Talbotton, Georgia. Tickets are $15 for a single, and $10 a piece for groups of three or more!

Purchase advance tickets now

!