Marty

 

Stuart

 and his Fabulous Superlatives are one of the greatest– perhaps the greatest–  hillbilly outfits to ever bend an E string, but far from being intractable purists, 

Stuart

, guitarist "Cousin" Kenny Vaughan, drummer Harry Stinson, and bassist Chris Scruggs (multi-instrumentalists all) soar past any perceived genre limits to deliver what Gram Parsons would have defended as Cosmic American music. For 

Stuart

, 64, who began his professional career with Lester Flatt's band at the staggeringly early age of 12 years old, country music has been a cause as much as a vocation, a deeply rooted institution to be regarded as reverently as any cultural accomplishment.
The Superlatives' latest effort Altitude pulls out all the psychedelic stops, chiming in where 2017's cinematic Way Out West faded with a signature brand of twang and reverb country-fried in the crucible of revolutionary '60s rock.
"When we did Way Out West, we basically parked ourselves in Southern California– spiritually, mentally, musically all of the above– and there's a piece of me that's lived there perpetually since 1973," said 

Stuart

 during a recent phone call. "It's Pet Sounds, it's Capitol Studios, it's The Beatles, The Byrds, Nudies… It just goes on and on! It's the inspiring touchstones of Southern California. Maybe with Way Out West, we got started, and maybe we got it a little further down the road with this record."
Altitude evokes The Byrds at their jangly-est, late-stage Beatles exoticism, and the Burrito Brothers at their apex. It's 

Marty

 

Stuart

 and the Superlatives at their most experimental– and possibly at the height of their powers.
Though tapped for the Country Music Hall of Fame in 2020, 

Stuart

 was prevented from being honored by the establishment due to the COVID-19 pandemic. He was officially inducted in 2021 by another Hall of Famer– his wife, the "Queen of Broken Hearts" and country music icon Connie Smith. But don't let the laurels fool you into thinking 

Marty

's ready to take it easy. 

Stuart

's inked a deal with roots music specialists Snakefarm Records and is primed with a series of projects on the horizon including an album of instrumentals and a collection of favorite covers dubbed Songs I Sing In The Dark.
AI- Is Altitude an album of country music that might have been had The Byrds been received differently at the Grand Ole Opry?
MS: I don't know. I wasn't there that night [March 15, 1968], but I've heard. Me and the band went out and played with Roger McGuinn and Chris Hillman– we got to be The Byrds on the 50th anniversary of the Sweetheart of the Rodeo record! Part of me felt like a twelve-year-old kid gettin' to play with The Byrds (laughs)! And the other part of me knew the weight and the depth of it and understood what was happenin'. A lot o' those sounds and a lot o' those songs, there was no way to play thirty shows of that and not have it follow me back to the studio. I think if you feel that, it may have been what we experienced on stage with those guys.
Where did that influence come from specifically? Because you have been at this since before you were a teenager, long before some folks even begin to discover those sounds. Were you always on the hunt for new and different music or was that something that you developed over time? 
MS: When I first went to Nashville, I lived at Roland White's house, Clarence White's brother. Clarence was the guitar player for The Byrds. There was this stack of Byrds records, and I asked Roland at one point, "Why do you have all these Byrd records? You a fan?" He said, "Well, my brother plays with The Byrds," and I went OH!
[Roland] tuned me into Clarence's playing and the songs. I knew "Mr. Tambourine Man", of course, and "Eight Miles High" and "So You Want to Be a Rock 'n' Roll Star"– everybody knew that– "Turn, Turn, Turn", but I went 
inside
 The Byrds band hall in those records. It was, "Oh, I get it!"
I just kinda kept those sounds in my head, and then I bought my own copy of Sweetheart of the Rodeo in 1973 at a shoppin' mall in north Nashville, took it home, and I liked the record because even as a young musician, I understood. I knew it was cut in Nashville, I knew some o' the players on it. I bought it for really cheap at the record store, so I sensed that it didn't do so well commercially, but what I did understand was it was the first time I'd ever heard country music and folk music and rock n' roll and gospel music and bluegrass music collide successfully.
Right after that, we played– "we" bein' Lester Flatt's band– a show at Michigan State University and the openin' act was Gram Parsons and Emmylou Harris. We played, and then the Eagles rode through on Desperado. I saw with my own eyes and heard with my own ears, in person, and was part of a night that I'd heard in the grooves of that Sweetheart record. I said, "This is the way I will live the rest of my life. This diverse." So that was somethin' I guess that goes back to then.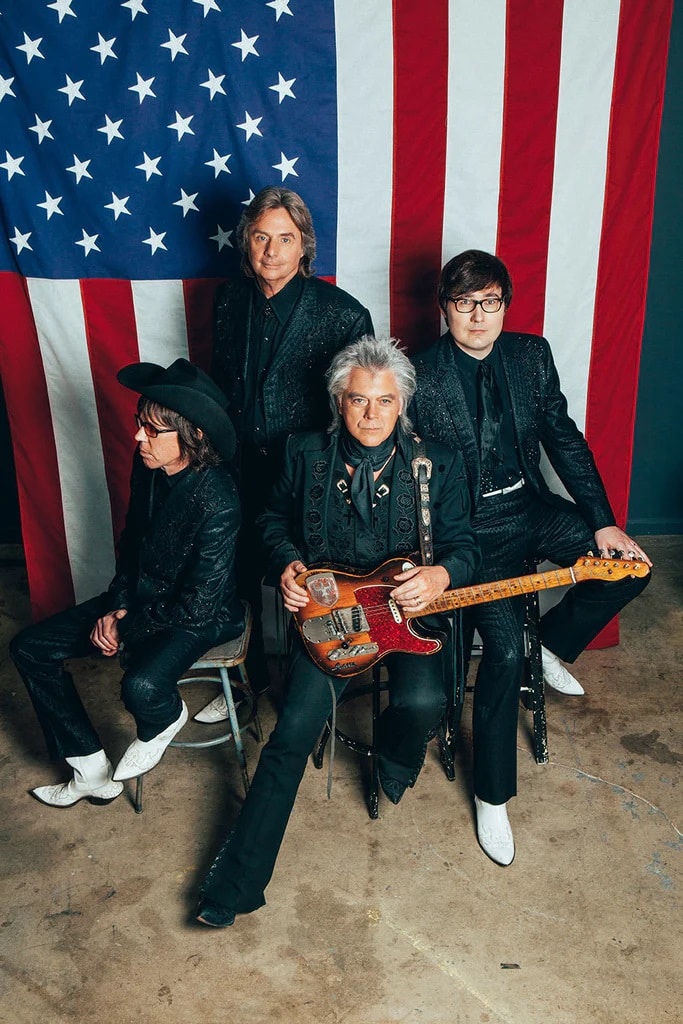 You brought up "So You Want to Be a Rock 'n' Roll Star", and you have your update of that, "Country Star", an awesome blend of psychedelia and road insanity– but real elements of your life mixed with it. How do you separate the two? The country star from Marty Stuart when you're at home?
Well, there ain't a lot o' difference (laughs)! It's pretty much tragic at every turn! You remember that band BR549? Kenny Vaughan and I were talkin' years ago when Kenny ran into one o' the guys from BR549 at nine o'clock at night at the supermarket– and he was still the guy from BR549 (laughs)! And if Kenny goes somewhere, he's pretty much Kenny Vaughan! I think we're all that way. It's just who we are. We go in the phone booth and put on some cowboy clothes before the show but otherwise, it's all the same!
Speakin' of BR549, that leads me to Chris Scruggs and the song "Space". Did you make Chris play the sitar on that song? Is that the tone I hear?
Let me ask him… Hey, Chris, did you play sitar on "Space"? [Chris Scruggs in the background, "You played sitar on "Space!"] I did? Oh, that was me!
B.B. Palmer put out an EP last year called Krishna Country Gold, and he spoke at length about the challenges of incorporating the sitar into country music.
Ms: Well, there needs to be more sitar! The other night on the way home, I heard "Games People Play" by Joe South and it's sitar heavy with a lot of 'verb on it. When I was a kid, that was the first time I remember hearin' sitar on a country music radio record. I know that there's been some sitar along the way but yeah, we could use a little more sitar in the world! Danelectro sitar as Mr. Scruggs says!
Altitude is available to order now!
Thee Aaron Irons is a music commentator and host of Honky Tonk Hell, a Rockabilly/Rhythm & Blues retrospective. He lives in Macon, Georgia with his wife and daughter.