The professional wrestling entrance is a spectacle all its own. In the 21st Century, it's a pyrotechnical extravaganza, a panther walk of bravado, menace, and on occasion, a highlight above the actual physical confrontation. Some wrestlers utilize a cinematic approach while others prefer an old-school TCB intensity, but no matter their place on the card or the weight of the match, the right soundtrack can be crucial to a wrestler's persona.
On Saturday, July 15th, the Middle Georgia Comic Convention is back at Macon's Anderson Conference Center, and special guests are set to include legendary pro wrestling manager, referee, and personality Teddy Long as well as former WCW World Heavyweight Champion, gridiron great, Hall of Famer, and Middle Georgia native, The All-American Ron Simmons.
As you prepare to walk that aisle, here's a six-pack of entrance themes worthy of a champion's strut– or thump!
1. "Another One Bites The Dust", Queen (Junkyard Dog)
Fresh on my mind from a recent viewing of the docuseries Dark Side Of The Ring as well as the discovery of Charting The Territories' ultra-compelling article "A Dog and a King: Looking at The Junkyard Dog's Experiences in the Wake of Desegregation and Assassination", there's really no better example of the wrestler, his theme, and the effect the combination has on a crowd. Before he became an action figure-sellin', rock n' wrestlin' cartoon, Sylvester Ritter– JYD– battled stars & bars waving antagonists (we'll talk about them in a minute), a beautiful Black hero to every man, woman, and child within earshot of Queen's "Another One Bites The Dust". As soon as John Deacon's bass line thumped in, it was on like a light switch, and the Dog was battlin' for all of our souls.
2. "Texas (When I Die)", Tanya Tucker (David Von Erich)
If you follow modern pro wrestling at all you probably know the term "over" is used for a wrestler set to have their arm raised at the end of a match. It can also be used to describe a grappler's immense popularity. Was anybody ever as "over" as a Von Erich on a Friday night in Dallas, Texas? The Yellow Rose, David Von Erich might've walked to the ring with Tanya Tucker's disturbingly prophetic cowboy lament blaring out of the Sportatorium's speakers (David died tragically at the age of 25 while on tour in Japan), but the real soundtrack was four thousand screaming, sweating, crying fans.
3. "Badstreet USA", Michael Hayes and the Fantasia Band (Fabulous Freebirds)
In the 1980s, there was an often laughable trend in professional wrestlers recording their own entrance music. I won't lie, I still catch myself humming Honky Tonk Man's "Cool, Cocky, Bad", and I can embarrass myself with alacrity when the heavy drums to  "Sexy Boy" kick in (an absolutely terrible song– sorry, Jimmy Hart– that was also the ringtone on my very first flip phone), but the best (and worst) wrestler-helmed ham jam arrived in 1983 courtesy of  Michael "P.S." Hayes, leader of the Fabulous Freebirds. Comprised of Hayes, veteran tough guy Buddy Jack Roberts, and the massively talented Terry "Bam Bam" Gordy, the Freebirds were a top rebel menace in the old territorial days. They blinded the Junkyard Dog, terrorized the Von Erichs, and assaulted us all with "Badstreet USA".
4. "Rock 'N' Roll Is King", Electric Light Orchestra (Rock 'n' Roll Express)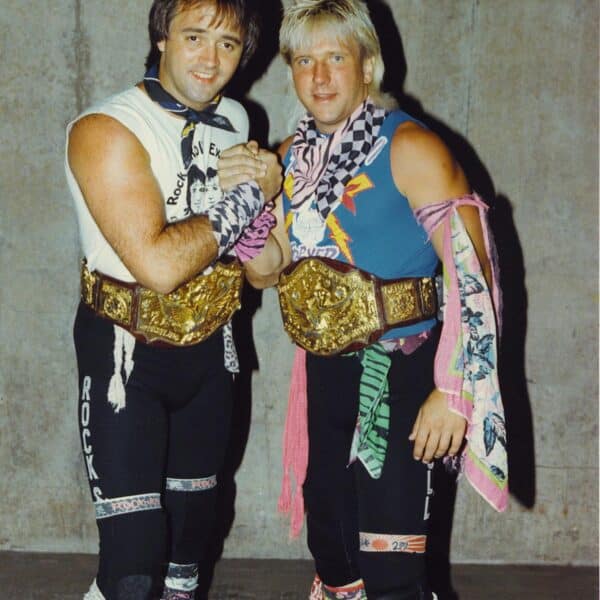 I may have to retract my previous statement regarding being "over"(or at least amend it) because being Ricky Morton and Robert Gibson in the Carolinas on any given night in the late '80s might very well have rivaled being a Von Erich in the Big D. The Rock 'n' Roll Express were and are, undeniably, one of the greatest tag teams in professional wrestling history, and their Jeff Lynne-penned choice of theme song was a certified house rocker. As of this writing, at age 66, Morton is still at it, a Hall of Famer competing for major and independent promotions. Wamma-lamma-bamma-lamma, rock 'n' roll is king!
5. "Perfect Strangers", Deep Purple (Shane Douglas)
Deep Purple's "Perfect Strangers" radiates swagger and contempt, two necessary attributes in the best "heel" wrestlers. Shane Douglas oozed both. One of the last in the old-school mold, "The Franchise" was a brute technician in the ring, tossing bodies with his belly-to-belly suplex (learned from Magnum TA) while flaying his opponents alive with razor-whipped promos. Shane competed for all the major companies, but his multiple runs in ECW stand out amid the 1990s pro wrestling landscape. The 3-way dance between Douglas, Terry Funk, and Sabu from '94's The Night The Line Was Crossed remains one of my all-time favorite matches.
6. "Ain't No Grave", Johnny Cash (The Undertaker)
In 2011, Wrestlemania came to Atlanta, Georgia, and I was there with two of my best friends, full o' beer, and ready to watch The Phenom take on The Game, Triple H, in a "no holds barred" match. The bell tolled, the lightning flashed, and we held our breath in anticipation of the Dead Man's arrival. Gloriously, Johnny Cash thundered throughout the Georgia Dome as The Undertaker made his iconic march to the ring. No strings on "Rest In Peace", but I use "Ain't No Grave" for my Undertaker Fire Pro edit.