Ida Cox's advice to squares: "Wild Women Don't Have the Blues." That's a seductive premise, but the "Uncrowned Queen of Blues" didn't live long enough to meet Carolyn Wonderland, the Texas vocal powerhouse and gunslinger. Wonderland has been a blues circuit mainstay and bona fide roustabout since her 1993 debut, Groove Milk. Since then, she's experienced the curses and charms of a career in music, releasing 9 beloved LPs and winning a trophy case's worth of Austin Music Awards, but also finding herself homeless– or "van-full"— for two years.
In 2021, after a 5-year stint playing guitar in John Mayall's Bluesbreakers, she found herself in a dream-come-true reality, recording an album produced by Dave Alvin. The collaboration yielded Tempting Fate (Alligator), the most unpredictable album of her career, a chipped, cracked mosaic of a life given to the blues. There's economy and gusto, damnation and deliverance. "Fragile Piece And Certain War" and "Texas Girl And Her Boots" demonstrate raw power; "Broken Hearted Blues" offers classic, hard blues; her take on Billy Joe Shaver's "Honey Bee" celebrates the naivety of first love; the ominous finale, The Grateful Dead's "Loser," rains hellfire.
This July, Wonderland broke her ankle in Amsterdam, an injury that sent her home mid-tour, postponing gigs and press. When I finally catch up with her one Friday morning to discuss her upcoming appearance at the Blind Willie McTell Music Festival on September 23rd, I'm not sure what to expect. Before I can ask her about her injury, she tells me that her car has broken down, leaving her stranded in Woodstock, waiting for a new ride, so she and her band can get to their next gig. She could be forgiven for blowing off our interview, but soon enough, she's alive, the enthused, eternal student wanting to talk about her heroes.
"When I think about Blind Willie McTell," she says, "I think about my friend Charlie Prichard, a great guitar player from Austin who passed several years ago. Back in the day, he was in Cat Mother and The All-Night Newsboys, all these great bands. He said when he was a kid, he and Doug Sahm came up together. Doug knew that he liked a musician when they could tell the difference between Blind Willie McTell and Blind Willie Johnson. In Texas, of course, we're steeped in Blind Willie Johnson. So it's gonna be fun to pull out some Blind Willie McTell."
Wonderland was a quick study when she first fell for the blues, making sense of history by studying lineages and influences. She says, "For me, my coming to McTell was definitely backwards. Freddie King was first. Then I got really lucky when I was a teenager because I had a friend who would just sit me down in his room– he used to work at a record store— and say, 'You think you can play guitar? Sit down, and listen to this.' It was all this live Freddie King stuff from his shows in Germany or here in the States, being backed up by Gatemouth Brown or whoever it was like. I was like, 'This is crazy! Who is this guy?'
"Through that, I got turned on again, going backwards. There's a dozen players to put in the middle, from Freddie King to Blind Willie Johnson to Blind Willie McTell. And when Bob Dylan sings about you, you gotta be checked out. When Dylan says that nobody can play blues like him, you gotta go listen to him."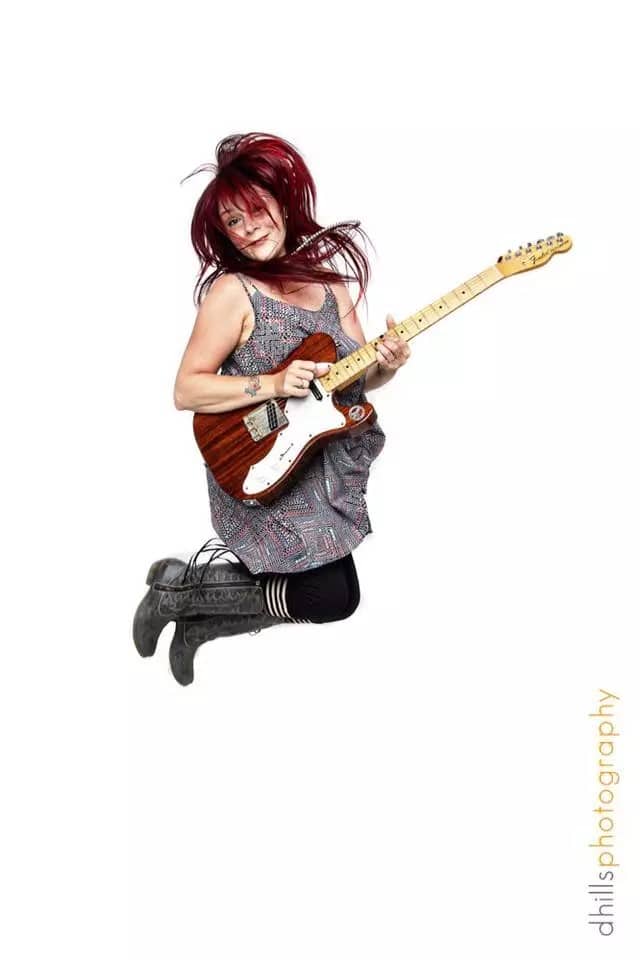 Early on, she had the chance to meet and mingle with her heroes. "I volunteered at the Blue Society in Houston when I was a kid. It got started across the street from me, so I was lucky I was playing music at the time. I was across the street from Uncle John Turner and Sonny Boy, so that's how they started The Blue Society. One of the things that they did was drove some of the musicians when they came into town to do Juneteenth at the Miller Outdoor Theater in Houston. I got to be a driver because I had a good damn record at 17. As it happened, I got to drive around Gatemouth Brown all day long. Of course, he was quite surly when we picked him up. He's looking at me with my purple hair, and he says, 'Oh, this isn't conspicuous at all.' The week before, I saved up basically my allowance to get the best weed I could, so I could roll him up these joints because I heard he smoked weed. It was all about that. It was the shitty weed a 17-year-old can get, but that's what I rolled him up. And then he proceeded to break it up and put it in his pipe. And I was like, 'Oh, I shouldn't have wasted all my time rolling that.' It was so funny because at the end of the night, we went to dinner and he bought me food and he started just giving me shit. I could tell he was ribbing me pretty good. And at the end of the night, he said, 'Oh, you're all right.' And he gave me his pipe.
"I was just so jazzed," she continues, "because I snuck in most of the time. I was so happy just sitting on the side of the wall, like 'Put as many Xs on my arms as you want so long as I can see this cat play.' But then I got to see folks like Charlie Batty from Little Charlie and The Nightcats, and he would never play the same solo twice, ever. Between him and Danny Gatton, getting to see them live was fucking crazy. Albert Collins, too. Yeah, he had his schtick, and he had his songs, but those solos were not necessarily the same. It was like, 'Ok, that's where you're going today!'"
Even now, after years of sharing the stage with hall-of-fame icons and critically lauded obscuros, she's still mystified. "I get starstruck by everybody," she says, "so that kind of makes it a little even in a way. Getting to meet Bob Dylan was frightening, but also cool because I was already scared to death to meet Larry Campbell. We were just hanging out with Cindy Cashdollar here last week. I'm just always so thrilled that she's my friend, but every time I see her, it's like I'm a 12-year-old kid again."
In fact, it was Cashdollar who secured Dave Alvin as Wonderland's next producer. "Tempting Fate is the latest record," Wonderland says, "so it always makes me happy. I recorded that after being in John's band for a while. He's incredibly generous and kind with all of these musicians. I was like, 'Well, I've saved up enough money. I think I'm gonna make a record. I hadn't had a label in a while, so I wasn't sure what I was gonna do with it, but I knew it was time to do these songs while they were still fresh in my head. I was in Woodstock, hanging out with my friend Cindy Cashdollar. I said, 'I think I'm gonna make another record. Do you wanna come play on it? She said sure and asked who was going to produce it because she knew that I didn't have a label at the time too. She's asked, 'Who's your perfect producer?' And I was like, 'Fuck, I'd say Dave Alvin if I thought he would say yeah.' She called him right there. He answered the phone. I'm like, oh shit. And suddenly it got real. I had to really whip those songs in this shape, but it was exciting. He's the perfect producer for it. He's got the greatest ear, not just for melody, lyrics and arrangement, but he also understands the tones and what I'm going for with guitar. He had a more genre-less approach to it, so it's not pigeonholed into one thing, so that makes me happy. and we're gonna do it again. That makes me even happier."
Of her unsectarian style, Wonderland says, "I think initially it might have been born of the fact that I wasn't so confident in myself as any one genre player. And growing up in Houston too, you could play five nights a week to different people so long as you played different music. Chuck Berry goes over the same in a punk club as it does in a country club, so write songs like that.
"I played in the band for a bit with Vince [Welnick] from the Grateful Dead. I always loved watching the Dead. I love how they can take any kind of music, and it still sounds like them. I say the same about Doug [Sahm]. With those folks, it doesn't matter what the type of music it is. Once you put your stamp on it, that's you."
And like The Dead, Albert Collins, Gatemouth Brown, Dave Alvin, Freddie King, and countless other musicians— enshrined and anonymous— Wonderland will continue to find meaning in her calling. "You get to play, and that's it– that's the joy," she says, "Everything else is just trying to get there; the drive is just the drive to get there. Who do you play [with], who you travel with, makes a big difference. That's your family."
Get tickets now to experience The Blind Willie McTell Music Festival on Saturday, September 23rd in Thomson, Georgia! Enjoy LIVE performances from Carolyn Wonderland, Shemekia Copeland, The Sensational Barnes Brothers, Jon Cleary, Eddie 9V, John Fullbright, and more!
Charlie Farmer is a Georgia writer and professor who loves his wife, his daughters, his students, his cats, his books, his LPs, and everything else one should love in life.