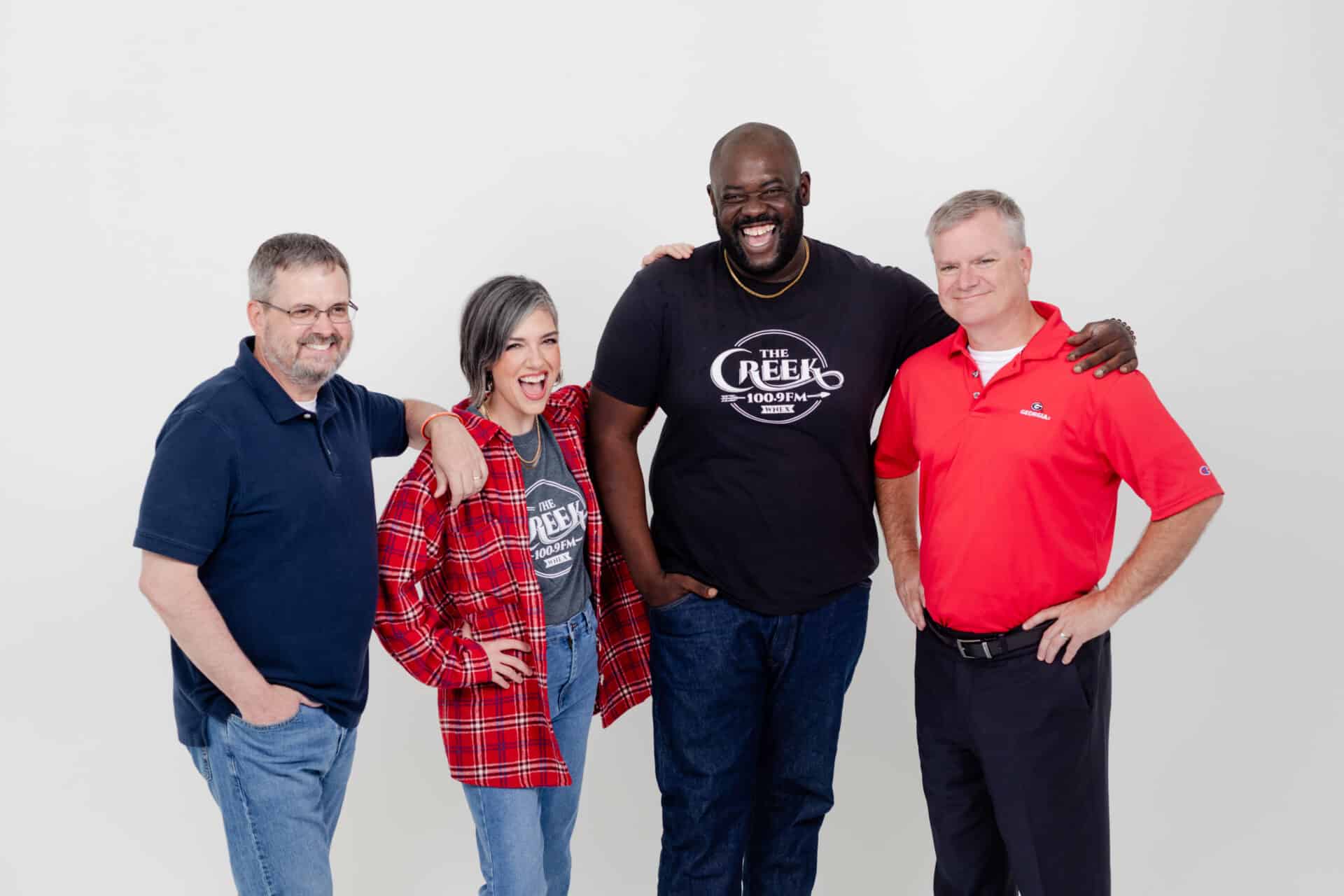 On Monday, Oct. 9, 100.9 The Creek airs its first look at a reimagined and expanded "Creekside Morning" show. Samantha "Sam" Stephens joins Charles Davis as permanent co-host of the 7 – 10 a.m., Monday-Friday segment which will feature music, a variety of guests and conversation, followed by the 10 a.m. premiere of "Creekside Sports," an hour-long, local sports-talk segment hosted by Daniel Shirley and Steve Norris.
"In response to listener feedback, we're solidly focused on American roots music while leaning even more into our coverage of the Central Georgia community," said Wes Griffith, Creek Media Co-owner and 100.9 The Creek Music Director. "Sam's a nationally recognized singer, songwriter and veteran music journalist whose on-air chemistry with Charles knocked us out when she guest-hosted recently. With Daniel and Steve, we're adding an authoritative but fun breakdown of local games, news and rivalries with frequent guest spots from coaches, players and personalities."
Charles Davis has been the voice of 100.9 The Creek since it went on air in the summer of 2016. He co-hosted "Creekside Mornings" with Tony Doolin for five years and with Anthony Ennis as temporary co-host for the past six months. Charles is active in Central Georgia's cultural community as a singer, musician and actor. He is currently appearing in the play, Breathing Under Dirt, at the Douglass Theatre and in 2022, directed the production of Ain't Misbehavin' at Theatre Macon. He frequently appears as a guest vocalist with Macon Pops and leads the band Charles Davis & the Velvet Sound.
Sam Stephens has spent the last 14 years as one of the most recognizable and respected "accents" in the country music industry. Born and raised in the Central Georgia area, she spent a decade at CMT in Nashville as a beloved entertainment journalist, on-air host and red-carpet correspondent for the network. She is the creator and host of Apple Music's Rhinestone Radio and a frequent guest voice on WSM Radio, home of the Grand Ole Opry. As a singer/songwriter, Sam has headlined her ownArmed Forces Entertainment Tour, playing for US troops in Greenland, the Bahamas, and historic Guantanamo Bay.  She's also toured and shared the stage with pop singer Daphne Willis, Rock and Roll Hall of Famer John Oates, andGrammy–winner Francesca Battistelli on tour and at the world-renowned Carnegie Hall. In 2018, Sam released her debut album Stargazer through Big Deal Music Group.
Daniel Shirley is a senior college football editor for The Athletic, a subscription-based sports journalism website and sports department of The New York Times. He previously worked at newspapers in Anderson, S.C., Valdosta, Albany and Macon, serving as sports editor at the Macon Telegraph for 11 years and Albany Herald for seven years. Daniel also served as co-host of both the Morning Show and the Midday Sports Zone.
Steve Norris began his broadcasting sports career as the voice of Georgia Military College high school and junior college football at Lite 100 FM in Milledgeville. His career included stints in sports and news at 13WMAZ, as well as covering high school sports as a free-lancer for the Macon Telegraph. For the past eight years, Steve has owned and operated Express Employment Professionals in Warner Robins.