It's been six months since I last spoke to the King o' the Gulf Coast Boogie about his album Jukebox Charley and towards the end of the conversation, once I'd cultivated the nerve, I asked about Crockett's alluded to but as of yet unannounced next project.
"We're callin' it The Man From Waco," Charley confided. "And this one's different."
Ceding credit to Willie Nelson's genre-shaping Red Headed Stranger, Crockett also summons the honky tonk specter of his friend James "Slim" Hand– the titular hero– as the driving force behind The Man From Waco. The album is emotionally conceptual, loose of theme, but dedicated to filling in pieces of Charley's vagabond-to-headliner trajectory as well the legacy of his mentor and the enduring impression left by Hand. 
The Man From Waco assembles Charley's band The Blue Drifters in full force, and tapping his manager (and Next Waltz impresario) Bruce Robison for the producer's position, recording commenced to analog tape at The Bunker in Lockhart, Texas. Though this doesn't signify the two Texans' first studio outing together, it does mark their first full-length venture. An invitation that oddly came as a bit of surprise to Robison.
"He didn't ask me to do this. This record was entirely my idea. Just like when I sprung the idea of him managin' me on him, he spit his whiskey out!" Charley shared. "He couldn't believe it 'cause everybody in the world was knockin' on my door and I just felt like it was the right time."
Indeed, pressure to enter the studio with various "hot" producers like Dan Auerbach or Dave Cobb has been something of a hound at Charley's heels the last few years as his star has risen and his cachet with fans has increased. But if Crockett the artist isn't necessarily opposed to such ideas, Lil GL, his hustlin' alter ego may be reluctant to meet any other expectations outside of his own.
"Let's do the complete opposite of that. Let's take it way back home and have Billy [Horton, Crockett's bassist & semi-regular producer] drive on down from Wildwood to Lockhart, get in this room and let's cut this thing live." said Charley.
And live it is. In the way that only a seasoned road band can, Charley and The Blue Drifters exercise a smoothness of connection born from innumerable nights on stage. It's instinct as much as art, muscle memory as much as music, and like the lauded space created on 2020's Mark Neill-produced Welcome To Hard Times and the eulogistic 10 For Slim, The Man From Waco showcases Charley Crockett at his most aware and capable.
The album opens with the saloon piano'd, funereal "The Man From Waco Theme", a mood setter hooked by a lick of spaghetti western surf-ish-ness certain to be wrapped around your ears from here on out before groovin' into the thumbed rhythm and coyote-yipping of "Cowboy Candy".
"The Time Of The Cotton Wood Trees" has been making the rounds with Charley for a while, but committed to two-inch tape, it's a highlight with one of the most naturally beautiful lines of his career, "She drove a blue pick-up truck / Boy, she loved it though it really wasn't much / Kinda like the way she loved me / In the time of the cottonwood trees."
Heart stomper "Just Like Honey", co-written with Kullen Fox, makes excellent use of harmony courtesy of Kelley Mickwee, and the blood boils quicker when the funky thump of "I'm Just A Clown" takes flight. Propelled by horns and Anthony Farrell's manipulation of the keys, it's a "greatest hits" cut and vintage Charley– or more realistically the aforementioned Lil GL– the type of tune that would've held street corner crowds enthralled or filled an open guitar case with a decent meal's worth of clinks and crumpled bills once upon a time. 
The voice of his street life is never behind Crockett but beside him on the bus or reminding from the wings that when you stop you don't eat; you don't eat you die. Perhaps that's why he stays perpetual in one studio or the other and most comfortable moving between towns, a honky tonk shark forever unsatisfied. 
That notion reappears with the resuscitation of "Trinity River" from 2015's independent debut A Stolen Jewel. The tune relies on Crockett's R&B frontman proclivities and Fox's driving trumpet, a signature of the group's sound and a gift to those who bought a crucial ticket, CD, or t-shirt in those early days. The song– as good as it always has been– glows in the warmth of The Bunker.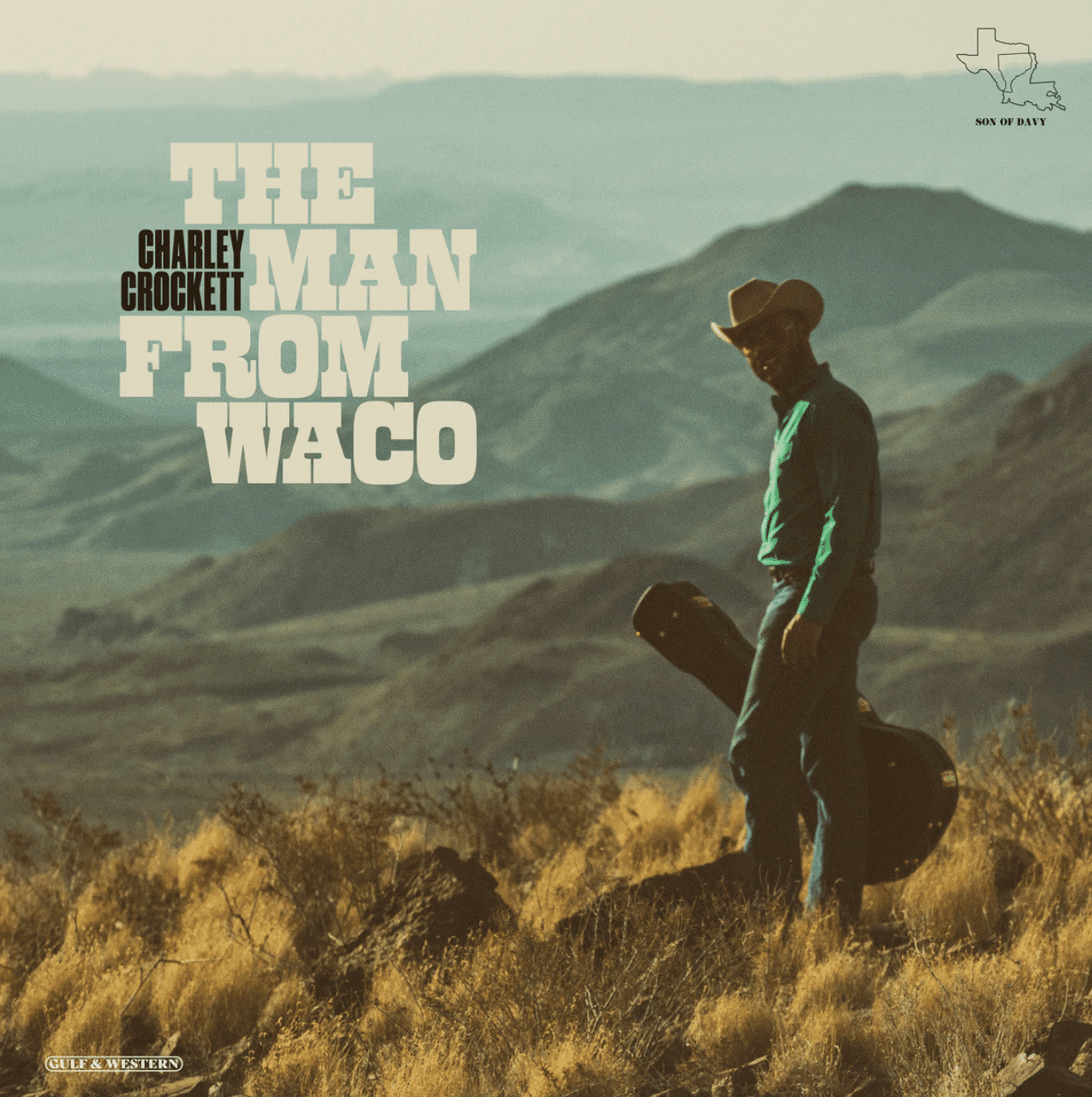 In another highlight track, Charley dreams of white doves and a long "Black Sedan" ferrying him across America as he sings, "The summer season is turnin' cool, though the days are still hot / I been losin' my green /  kinda like the cottonwood trees / holdin' on to what they've got." And is it his own time left to roam that's filled his head with iconography or the spirit tremolo of James Hand reaching out from beyond? The interplay between Nathan Fleming's pedal steel and Alexis Sanchez's almost Quine-esque Telecaster is instigating as the full chorus rises like the Kansas interstate moving west.
The title track rides into town on reverb spurred to a canter by cinematic intent, and again, it's difficult to discern just whose tale is being confessed. With its black-hatted twang and echo, "The Man From Waco" recalls the story themes of The Man Who Shot Liberty Valance or High Noon as well as the signatory flourish of Leone's Man With No Name or stoic Harmonica. James Hand is Charley's Eastwood, his Bronson, and his naked-eyed John Reid.
Continuing the film vibe, Crockett extrapolates "Tom Turkey" from the soundtrack to Pat Garrett And Billy The Kid (one of this commentator's personal favorite Dylan records), retooling the tale of Willam H. Bonney with a funky back beat and improvisational delivery that comes off as a window into the clubhouse of Bruce's Bunker, catching the kids half-working, half-playing cowboys & outlaws.
Whether a lover's lament for a woman or a way of life, the Crockett & Fleming penned "Odessa" is rich and tear-worthy, and in my cups, I'd undoubtedly shed a few in the river of the latter's pedal steel that flows steadily into "All The Way From Atlanta", a slow-building, lush wail of exile. 
"Horse Thief Mesa" trades anguish for anger and a last stand– more scene than sequence– and it's the only track on the album that might have benefited from further exposition. But "July Jackson", written by Charley and his partner Taylor Grace, is the quintessential murder ballad. Reminiscent of the "Long Black Veil" and "Denver", the tale of a woman ultimately satisfying a town's bloody gossip conjures the Southern Gothicism of "Ode To Billie Joe" with bell-like strummed guitar and a swelling complement of strings.
Following a coda of "The Man From Waco Finale", the album's epilogue wryly addresses Crockett's wary embrace of the music industry. "Name On A Billboard" listens as a cousin to the title track of last year's Music City USA, where he levels, "I shouldn't have come here in the first place 'cause folks in here don't like my kind." This time, Charley's on the way to Los Angeles and another pitch, another show, another hustle, and he's in on the joke as he sings, "Think I'll buy some things I can't afford / Hey, look! My name's on the billboard." 
It's absolutely no surprise that Charley Crockett would mine heroics from James Hand, a revered artist whose obscurity– curated or enforced– may have robbed him of potential success but gifted him with the breed of cowboy freedom a driftin' kid from San Benito, Texas would admire. Nor is it a mystery why, out of a legion of agencies and moon-promisers, Charley would seek out and trust Bruce Robison– a writer who respects music as a family vocation and whose navigation of Nashville left him wiser, still in love with the song, and in an unsullied position to further the careers of another generation– as his manager. 
More than any single attribute or trait, Crockett values honesty. It's his currency, and he spends it generously on The Man From Waco.
The Man From Waco is available now directly from the artist or across all major digital platforms.
Thee Aaron Irons is a music commentator & radio personality for

100.9 The Creek

where he hosts Americana Madness weekdays from 10am-3pm and Honky Tonk Hell, a Rockabilly/Rhythm & Blues retrospective that airs every Sunday afternoon at 1pm. He lives in Macon, Georgia with his wife and daughter and believes 10 For Slim: Charley Crockett Sings James Hand should've been included on RS's 100 Greatest Country Albums of All Time list.